A group of Basque companies, including Vicomtech, is developing AMA, a comprehensive maternal care platform.
Grupo Init, Reproducción Bilbao and Vicomtech, are developing the AMA project. It is a technology platform based on artificial intelligence for prevention, monitoring and personalized support before and during pregnancy, whose main objective is to develop a comprehensive system for future parents through the design of care plans.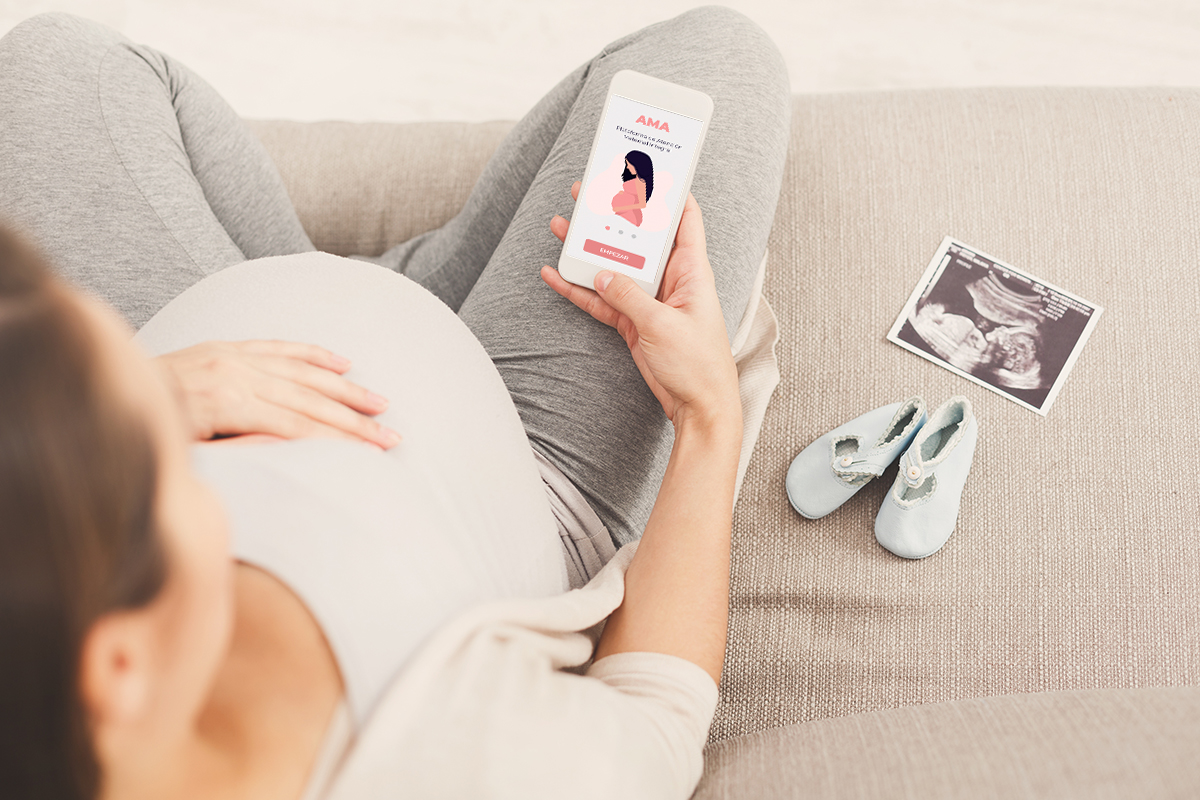 06.05.2022
A group of Basque companies made up of Grupo Init, Reproducción Bilbao and Vicomtech, are developing the AMA project, a technological platform for comprehensive maternal care based on artificial intelligence for prevention, monitoring and personalized support before and during pregnancy. It is a system that will make it possible to establish care plans both for women who are trying to conceive, naturally or with the help of reproductive medicine, and for pregnant women.
The main goal of the AMA project is the development of a comprehensive system for future parents. On the one hand, the system will allow the health professional to have an overview and agile for the follow-up of the woman and partner, with all the necessary information available in a comprehensive, visual and evolutionary way. On the other hand, AMA will offer a guidance system tailored to the personal needs of each woman or couple, so that in addition to providing all the necessary information during the search for a pregnancy as during pregnancy, it will also provide support to prevent possible complications.
This is the development of a novel product in the field of gynecology, with a high market potential, which responds to a proven need and for which no similar product exists today. New multidisciplinary approaches and the use of new sources of information and technology need to be considered for more effective follow-up and support during this phase of the life of couples or women who decide to become mothers.
Vicomtech will contribute knowledge as a technology center and develop Artificial Intelligence models based on prospective data collected during the project and retrospective clinical history data. Using different systems and advanced technologies, risk factors will be identified and potential complications during treatment and pregnancy will be predicted, as well as the success factor of assisted reproduction treatment. The training of the models will be carried out with tools owned by Vicomtech specifically developed for integration into the sector, in order to better guide the processes of Artificial Intelligence applied specifically to the healthcare sector. In addition, Vicomtech will participate in the development of an algorithm to support the detection of urine analysis on test strips using Computer Vision technologies. It will also develop a Dashboard using the facilities provided by technologies such as Plotly for visual analytics to support clinicians in the analysis and study of patients.
The AMA project (project co-financed by the Hazitek programme of the Basque Government) was born in this context to develop a technology platform to support before and during pregnancy being able to predict and prevent, in addition, possible complications through a sophisticated monitoring of clinical data, test strips, environmental open data, physical activity and nutrition, and personalized monitoring.
It is a question of determining not only clinical parameters when defining populations with a greater or lesser risk of having difficulties in getting pregnant or presenting with complications during the same, but to assess nutritional factors, and those related to physical activity and environmental parameters, according to Dr. Gorka Barrenetxea, Medical Director of Reproduction Bilbao and Professor of Gynaecology and Obstetrics of the UPV/EHU. AMA makes women feel like the true center of attention on which the whole system revolves, creating a solution based on their needs. The positive impact it will have on the psychological burden of pregnant women will be very important in making them feel safer and more controlled, as well as for pregnant women, who will receive warnings and reminders of healthy habits and lifestyles to achieve their purpose of conceiving.
Nekane Larburu, Head of Digital Health and Decision Support Systems at Vicomtech's Health Department, pointed out that "artificial intelligence tools have a lot of potential, and at AMA our goal as a technology center is to develop smart tools to predict complications, as well as to facilitate the collection of information in a simple way, thus helping women or women, before and during pregnancy."
Once again, technology offers tools to solve society's current problems, helps empower people in their care and makes them responsible for their own health.