Researchers
Are you a born researcher? Do you want to gain management skills to grow professionally? We'll help you to meet your professional aims as a researcher specialising in digital technologies. You will carry out R&D&i projects and publish scientific articles in the best journals and congresses. You'll grow at the same pace that cutting-edge technology and management advances. What's more, you'll acquire skills to cover technical direction posts in advanced companies.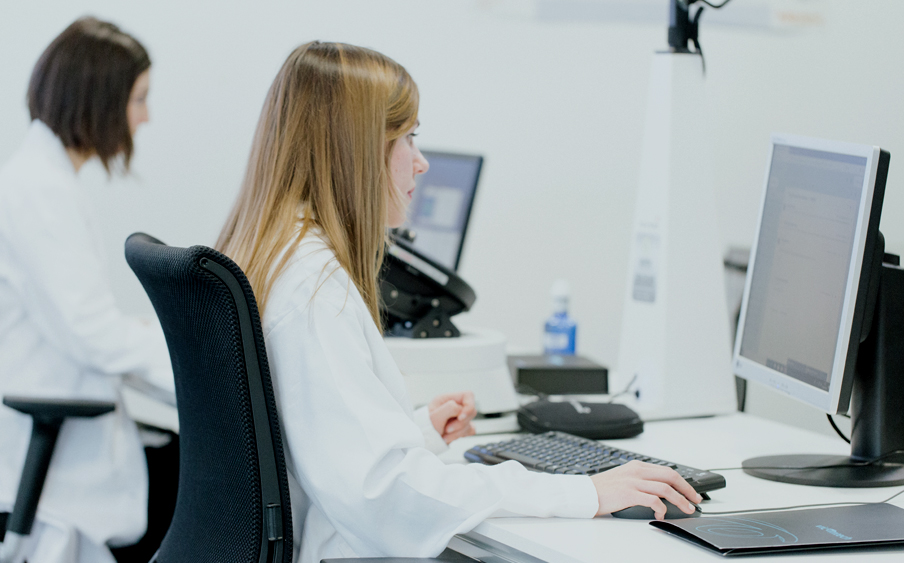 What we offer
Training and specialisation in digital technologies.
Working in teams with highly qualified professionals.
The chance to publish in high impact congresses and journals (Q1).
R&D&i project management skills.
Contribute to having an impact on the competitiveness of businesses.
Excellent working atmosphere in a young and dynamic environment.
If you haven't got it yet, do your doctoral thesis here.
Experiences in
Vicomtech
Vicomtech has given me not only technical knowledge in the field of research, but also experience in the industrial sector, carrying out tasks in project management, engineering and software development.

Marcos Nieto - Intelligent Transport Systems and Engineering, Vicomtech
There is always something to learn from experiences with clients and colleagues. In addition, raising new solutions for technical problems also has a creative point. Lastly, I want to highlight the friendly work environment.

Harbil Arregui - Intelligent Transport Systems and Engineering, Vicomtech
I started working in Vicomtech 10 years ago after having defended my Phd thesis. In all this time, the participation in projects of very diverse nature and the daily contact with the client has allowed me to see and understand the most practical and applied side of the research. Being surrounded by great professionals and great people make the road even more enriching and easy every day.

Estibaliz Loyo - Intelligent Transport Systems and Engineering, Vicomtech
I was pleasantly surprised at the closeness between all employees and the good working environment. I have been able to advance in my professional career and collaborate with companies in the area in the research and development of technologies for personalized medicine.

Alba Garín-Muga - eHealth and Biomedical Applications, Vicomtech
What I appreciate the most about Vicomtech is its human team. I think we are more than people who get together a few hours a day, we form a team that complements, grows and is able to achieve our objectives.

María Moral - Administration, Vicomtech
Vicomtech's applied research approach leads us to develop projects that combine the scientific part with a high industrialization component. These types of projects are very demanding, however we never stop learning and the end result is always very rewarding.

Jairo Sánchez Tapia - Industry and Advanced Manufacturing, Vicomtech
Vicomtech has allowed me to develop myself integrally in the field of R&D, covering all areas from the management of the initial idea, creation of the consortium, search for funding mechanisms, management of development teams, development of new technology, piloting and validation of the final solution, exploitation of results, scientific dissemination, etc. All of this at local, national and European level, in close relationship with clients and end users, and with the support of a large team of professionals within the company.

Eduardo Carrasco - eHealth and Biomedical Applications, Vicomtech
It has been a very enriching experience, above all for the learning that it has entailed. I came in without any work experience from the master's degree and I think I have learnt a lot. The relationship with my colleagues has been phenomenal at all times, and I must emphasise that the willingness of everyone to help at all times is very pleasant. In general, I have only good memories

Ignacio Arriola - Intelligent Transport Systems and Engineering, Vicomtech