Vicomtech attends the Basque Open Industry, one of the most relevant meeting places of the Basque smart industry, held at the BEC in Bilbao.
Together with BAIC (Basque Artificial Intelligence Center), BRTA (Basque Research & Technology Alliance) and Basque Digital Innovation Hub (BDIH), Vicomtech participates in one of the most important events in terms of cutting-edge technologies in the Basque productive fabric.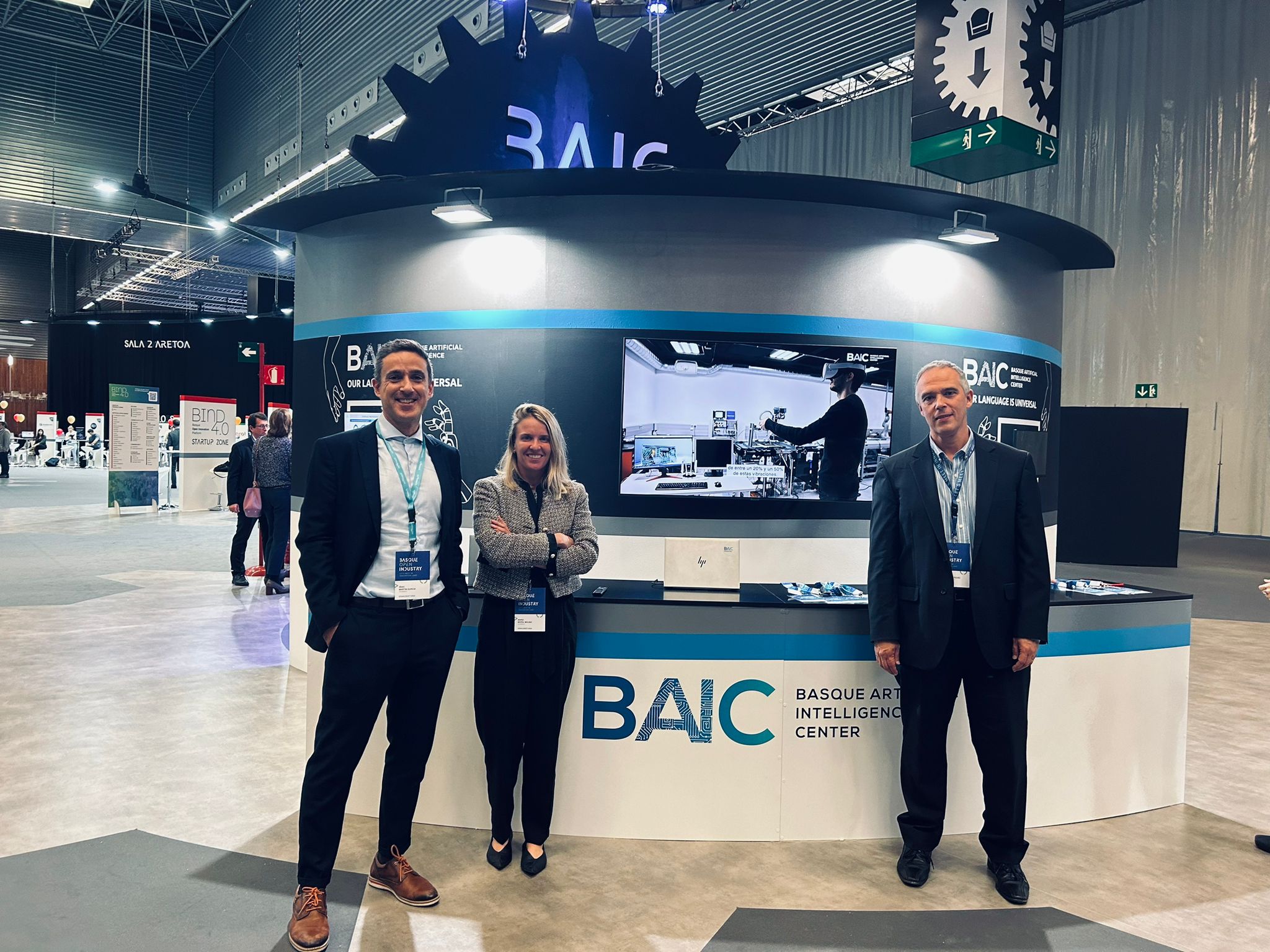 17.11.2023
Every year, the Basque Open Industry initiative held at the Bilbao Exhibition Centre, highlights the consolidation of the advanced manufacturing environment aimed at boosting the Basque productive fabric.
The conference is aimed at professionals from various sectors, as well as the general public interested in attracting and developing talent around cutting-edge technologies. It offers a combination of strategy, opinions, technology, experiences, workshops and presentations, fostering relationships in the field of talent and technological knowledge with a productive base.
Vicomtech attended the event together with the BRTA group, BAIC and BDHI. During the two days it has been possible to learn about the needs of companies and institutions in the Basque Country and also to participate in several of the presentations given to the attendees.
It is a reality that an Artificial Intelligence strategy is increasingly necessary in companies in order to take advantage of its real potential. "For AI to serve business, the role of the "business translator" who understands and builds bridges between both worlds is key", said Dr. Agustín Zubillaga, Vicomtech Bilbao Director, at the round table "State of the applicability of AI in the Basque Country, challenges and opportunities", together with members of companies and institutions such as IDEKO, Versia, CAF and BAIC.
On the other hand, Dr. Álvaro Bertelsen, senior researcher of Digital Health and Biomedical Technologies, presented a success case of the BDIH-KONEXIO programme, a project carried out together with Cyber Surgery, which within the framework of Augmented Reality applied to surgery, consists of a system to improve the efficiency of rendering large sets of data and medical images.
Vicomtech, focused on improving the competitiveness of companies in the Basque industrial fabric
This event is of great importance for Vicomtech, and its presence at the event highlights, once again, the centre's commitment to improving the competitiveness of local companies by promoting the knowledge and innovation of the Basque industrial fabric.