Bilbao hosts the presentation of the conclusions and opportunities of the 5G Euskadi project
Vicomtech participates in the initiative, which aims to deploy and enable a real 5G network in the three Technology Parks of the Basque Country, as well as to carry out 9 use cases oriented to the deployment of products and services using 5G technology, focusing on the areas of mobility, energy, industry, cybersecurity and network services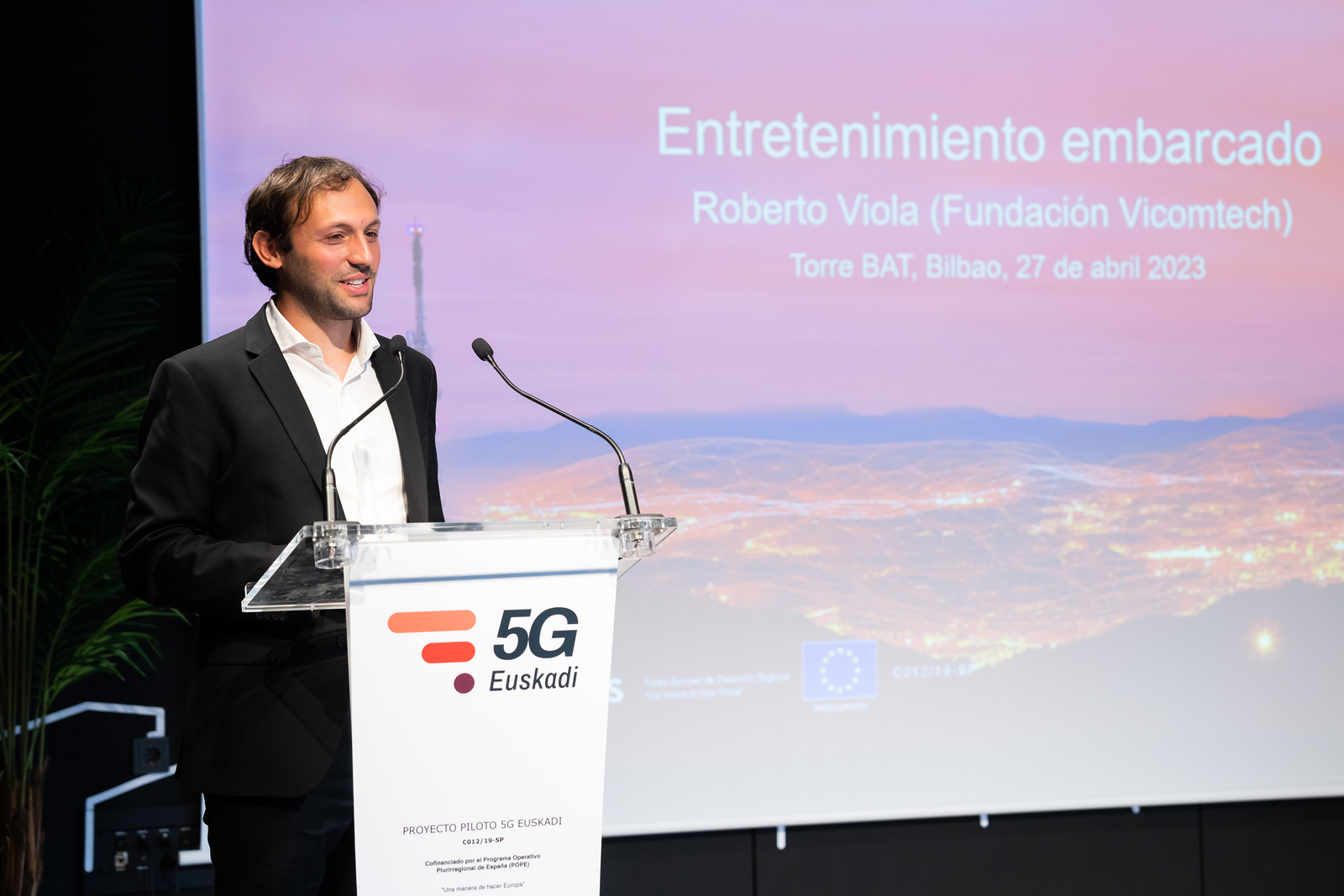 04.05.2023
On 27th April 2023, the BAT Accelator Tower was the venue for the institutional presentation of the Conclusions and Opportunities of the 5G Euskadi Project. A unique pilot project that started in August 2020 and ended last December, with the participation of 19 companies and public and private organisations; four telecommunications operators (Euskaltel, R, MASMOVIL and Orange) as technological enablers of the solutions and use cases; and the technology company ZTE as a supplier of 5G network equipment.
This objective contributes to the economic development of the Basque Country leading the Basque industry towards an era of automation, cybersecurity, production efficiency and, especially, digital transformation through 9 use cases oriented to the pre-commercial development of products and services. Specifically, Vicomtech has participated in three of the nine use cases, two of them related to the mobility sector and one to the energy sector.
Companies such as CAF and IKUSI presented the predictive maintenance solution for mobility vehicles, applying 5G solutions to both buses and trains. For its part, Ceit presented its remote assistance solution for operators through augmented reality in a use case aimed at industry; and Gestamp, together with the UPV/EHU, collaborated in the deployment and evaluation of 5G services and resource orchestration. Finally, the Basque CyberSecurity Centre (BCSC), with the support of Tecnalia, has developed a model for cybersecurity in 5G networks.
It should be noted that this was the only 5G pilot in Spain in which four Operators (Euskaltel, R, MASMOVIL and Orange) participated as technological enablers of the solutions and use cases. This multi-operator character was one of the strong and differential points highlighted by the company representatives.
Vicomtech's role
Vicomtech has presented its on-board multimedia entertainment solution based on the use of Edge Computing (MEC). The system implemented in the MEC makes it possible to monitor multimedia content distribution sessions and evaluate performance in terms of quality of service and the experience of connected users.
During the final event, Roberto Viola, senior researcher in the Digital Media area of Vicomtech, presented the results and conclusions of the Mass Entertainment Distribution use case, in which a network monitoring service at the Edge (MEC) has been deployed to improve the distribution of entertainment. This use of the MEC improves the scalability of the distribution and increases the quality of the user's experience.
The 5G Euskadi project has involved an investment of 7.1 million euros, of which Red.es has contributed 2.2 million and has been co-financed through ERDF funds with the aim of deploying and enabling a real 5G network in the three Technology Parks in the Basque Country.