European Mobility Week 2023, the European Commission's flagship awareness-raising campaign, this year under the framework of "Energy Efficiency".
As every year, the campaign promotes changes towards active mobility, greater use of public transport and other sustainable, efficient and smart transport solutions.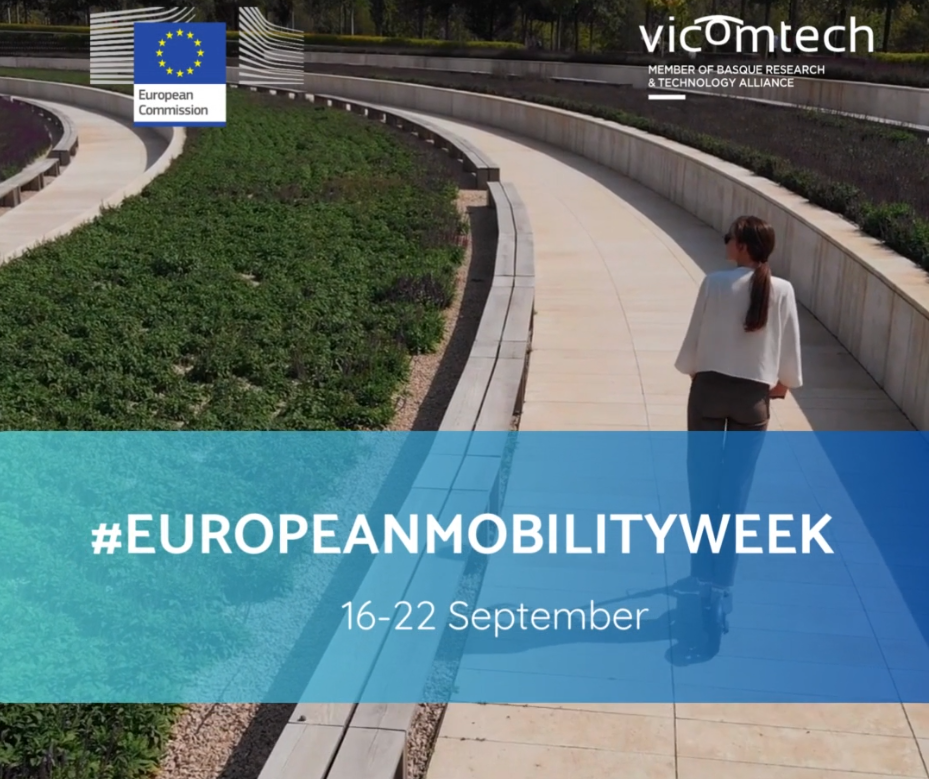 22.09.2023
The European Mobility Week has been taking place since 2000 from 16-22 September, encouraging organisations, companies, institutions, groups and individuals to use this period to implement actions for more efficient and sustainable use of transport, and authorities to test innovative planning measures, promote new infrastructure and technologies, measure air quality, and seek public feedback.
The theme chosen by the European Commission for this year's 2023 campaign is "Energy Efficiency" and the slogan for this and future years will be "Combine and move! On 22 September, the Car Free Day event, the origin of this European initiative, will be held to find new solutions to the problems associated with the increase in traffic in cities.
Vicomtech's contribution, developing technology to make a positive impact
Technology plays a key role in the race to reduce emissions, enabling new modes of mobility and promoting more sustainable ways of getting around.
At Vicomtech we research and develop technology in collaboration with companies, other centres and universities to generate a positive impact on our environment.
Some examples are decision support systems for public transport management, predictive algorithms for electric vehicle battery autonomy, real-time recommendation systems for eco-driving, or route planning algorithms from the point of view of efficiency and energy consumption.
In2CCAM project, an example of efficient mobility
Cooperative, Connected, and Automated Mobility (CCAM) is positioned to transform the landscape of transportation. Within the mobility industry, significant emphasis is placed on digitalising transportation, with a particular focus on automation. The efforts towards adopting cutting-edge CCAM technologies and services aim to exploit the full benefits generated by automation, such as increased safety and reduced environmental impact. In this sense, it can be mentioned that the integration of CCAM solutions into the overal transport ecosystem, coupled with smart traffic management, could increase road infrastructure capacity, thereby reducing transport emissions, congestion and pollution.
In this context, the main objective of IN2CCAM project is to deliver advantages to all individuals by comprehensively integrating CCAM services into the transportation network. In line with this goal, Vicomtech will contribute to the project by implementing new mobility services, which may include support systems for autonomous vehicles or urban priority systems designed for electric autonomous shuttles, promoting collective and environmentally sustainable passenger transportation. Moreover, the impact of the environmental sustainability will be evaluated by simulation in all the Living Labs in the project, in order to forecast the future impact of the CCAM when the connected vehicles will be in large number and completely integrated in the transport of goods and people.
Thus, at Vicomtech we will continue to maintain and improve our commitment to caring for our environment and the positive impact we are able to generate in it and in society. This week, and for the rest of the year, we must promote more sustainable ways of travelling and put into practice small daily actions that, however small they may be, will be able to favour a much more efficient and sustainable mobility for our planet.