#foroEGIDA Meeting on security and privacy solutions demanded by the business community
16th November, Ensanche Bilbao Building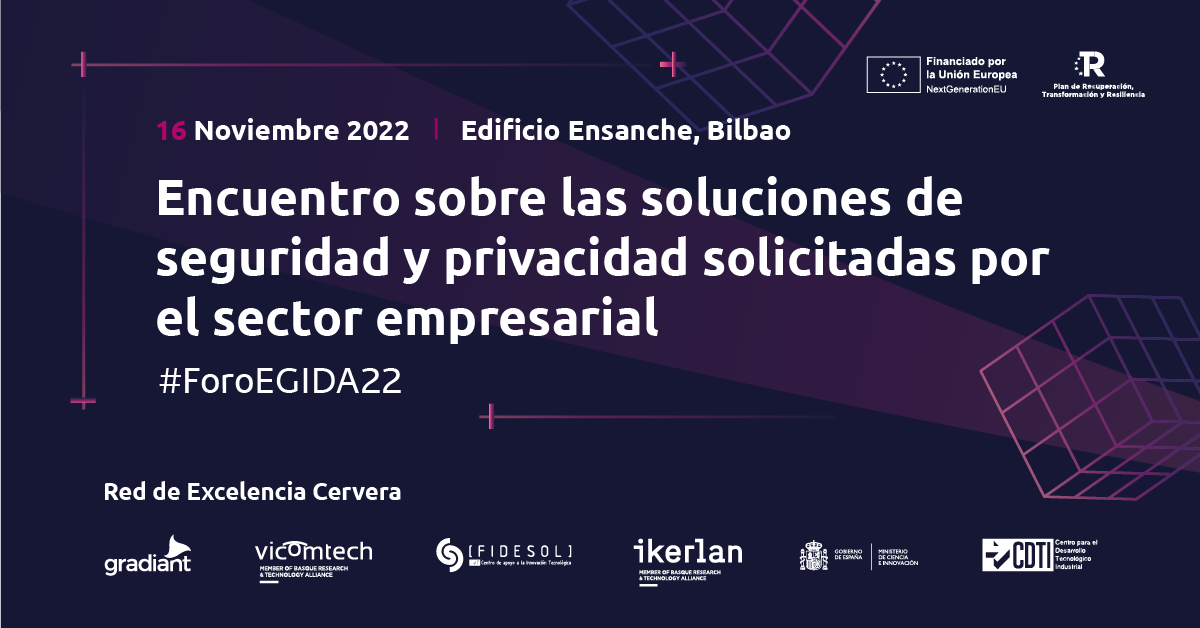 21.10.2022
Description
ÉGIDA is a national commitment to develop market-oriented research, promoted by the Ministry of Science and Innovation and the Centre for the Development of Industrial Technology (CDTI).
Objective of the conference
The ÉGIDA project, the first and only national network of security and privacy technologies formed by technology centres of excellence, is coming to an end after three years of activity.
With the aim of sharing the application of the advances achieved, the project will hold its closing event on the morning of 16 November in Bilbao, where different experiences of companies with which it has collaborated during the project will be presented on the following topics:
Applied cryptography
Identity and privacy protection
Secure system development methodologies
Cybersecurity in disruptive technologies
The event will feature the intervention of the four technology centres that have participated in the project: Gradiant (project leader), Fidesol and the BRTA centres, Basque Research and Technology Alliance, Ikerlan and Vicomtech. Likewise, we will also learn first-hand about the real experience of industrial companies that have implemented the aforementioned technologies in their activities.
Addressed to
Companies that consider the impact and benefit that 5G technologies can have on their business, either through private or public networks. Also, to the research community in the field of wireless communications.

Agenda
09:00 Reception and registration
09:30 Welcome and institutional opening
10:00 Presentation of the technologies developed and their industrial applications.
With the participation of the project research team and representatives of industrial companies.
11:00 Coffee break
11:30 Presentation of developed technologies and their industrial applications
With the participation of the project research team and representatives of industrial companies.
12:30 Research Frontiers - SPARTA Joint Competence Centre Infrastructure (JCCI).
Raúl Orduna, Director of Cybersecurity. Vicomtech.12:45 Panel with technology centres and universities.
Round table with centres and universities on the challenges in research and the application of cybersecurity in industry.
13:45 Closing of the event and lunch