Police Robots to Patrol the Streets of Málaga Starting in 2024 as part of the 5G+TACTILE Project
One of their main tasks will be to detect high-speed scooters, for which Vicomtech provides its knowledge and technologies in 5G networks.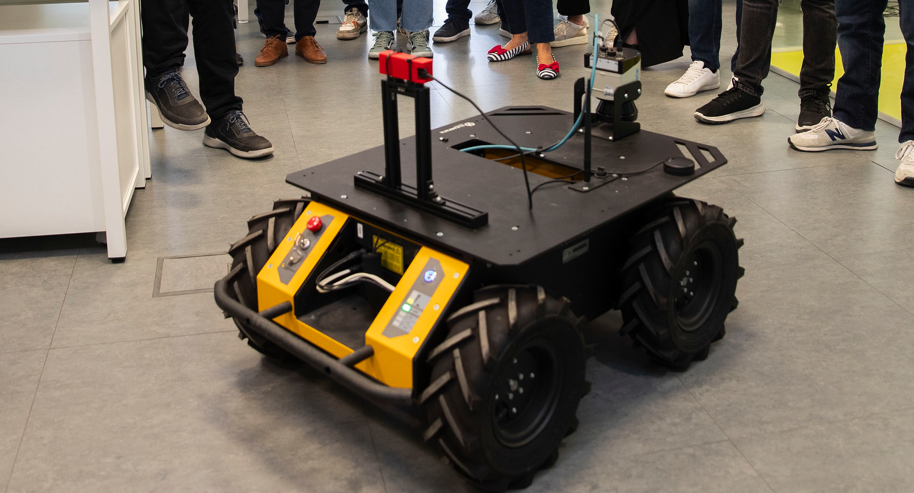 07.11.2023
The project, developed and led by the University of Malaga (UMA) with the support of several companies, institutions, and the local police, consists of robots that look like dogs, which will be able to operate in the city of Malaga from next year on.
These robot dogs are among the five projects being developed by the UMA as part of the 5G+TACTILE initiative, in which Vicomtech participates, with the aim of boosting the 5G network and applying this innovation to various scenarios, ranging from autonomous and connected mobility to public safety and high-precision agriculture.
The 5G+TACTILE project has 4 million euros in funding thanks to the Next Generation Funds, being one of its main objectives detecting high-speed scooters. Prestigious institutes and companies such as Telefónica, Nokia, Alisys, HeadNet, Nemergent, Dekra, Keysight Technologies, Instituto de Hortofruticultura Subtropical y Mediterránea (IHSM) La Mayora, and Vicomtech, leaders in 5G technologies and their applications, are participating in the development of the project.
One of the teams is currently in the process of testing, with the aim that soon, the first androids equipped with 360-degree cameras and Artificial Intelligence will patrol the centre of the city of Malaga to provide support to the Municipal Police.
"Dogs" to support police authorities
The idea in Malaga is that these "robot dogs" will function as assistants to police officers, with the ability to move relatively autonomously through the streets. Their aim will be to identify unusual or problematic situations, such as theft, crowds, falls or suspicious objects, and pass this information on to the police authorities.
Vicomtech's role, development of a digital twin
Vicomtech participates in the automotive vertical of the 5G+TACTILE project. In this way, it is leading the development of a digital twin for the autonomous driving use case, as well as a remote driving demonstrator using the 5G network and technologies.
*Picture: Jorge Zapata / EFE