The Bilbao School of Engineering awards Vicomtech researcher Inhar Yeregui with the best Master's Thesis in the field of Telecommunications
The prize for the best master's degree project, on the use of 5G communications for the maintenance of mobility vehicles, was awarded by the EIB and sponsored by Itelazpi and Siderex.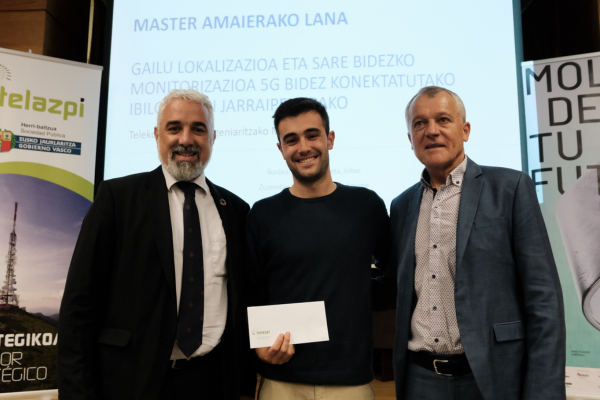 04.07.2023
On June 20, the awards ceremony for the best Bachelor's and Master's degree final projects in the field of Telecommunications and Iron and Steel was held at the Bilbao School of Engineering. The event was attended by Charles Pinto, Director of the Bilbao School of Engineering, Xabier Arrieta, Director of Information and Communication Technologies of the Basque Government, and representatives of the sponsoring companies.
Inhar Yeregui Arrieta, research assistant in the Digital Media Department of Vicomtech, with his work "Device localisation and network monitoring for 5G connected vehicle tracking" has received the award for the best master's degree project in the field of Telecommunications.
The work carried out and presented by Inhar is based on a use case included in the 5G Euskadi project, the maintenance of vehicles in mobility. In this context, the main objective of the project is the design and development of a tool that allows the location of connected vehicles and the monitoring of different aspects related to the performance of their communication networks. To this end, numerous resources provided by 5G communications have been used, such as modems capable of connecting to the network with high bandwidth and reduced latency, infrastructure virtualisation and edge computing.
The final project has been directed by Jasone Astorga, professor of the Department of Communications Engineering of the School of Engineering of Bilbao; and from Vicomtech, it has been tutored by Roberto Viola and Mikel Zorrilla, supervising, for the most part, the technical development of the project.
With his Master's Thesis, Inhar brings us one step closer to the future of improving mobility and the performance of vehicle communication networks, which will undoubtedly contribute to the sustainability of large cities.
Congratulations!