Vicomtech collaborates on the Zinemaldia Startup Challenge
The competition is open to entrepreneurs and startups proposing new business projects based on introducing new technologies to the audiovisual field. The second call of the competition is taking place this year.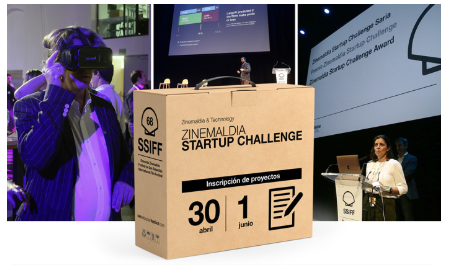 07.05.2020
The San Sebastian Festival has opened its second call for submissions for the Zinemaldia Startup Challenge, a competition for technology projects in the audiovisual field. The initiative will run in the framework of the third edition of Zinemaldia & Technology, the Festival's strategic endeavour to position itself as a benchmark space for reflecting on technology and the audiovisual industry.
The deadline for receiving submissions is June 1. The competition focusses on individual entrepreneurs and recently created startups – constituted after 31 December 2015 – proposing new European business projects based on the incorporation of new technologies and focussed on the audiovisual field. The candidates must also have their legal residence in a European country and must have the intention to launch their business project in the Basque Country.
The selected projects will be screened at an event to take place in September during the Festival, including a masterclass and the presentations of R&D&I companies.
The Basque Government, through its Department of Economic Development and Infrastructures, promotes the Zinemaldia Startup Challenge, an initiative running in the framework of the Zinemaldia & Technology event to celebrate its third edition this year and organised by the San Sebastian Festival, Tecnalia, Tabakalera and Petronor, with the backing of Vicomtech. With Tabakalera, through its 2deo audiovisual laboratory, work is underway to extend the activity to other events held throughout the year.
In its previous editions, Zinemaldia & Technology constituted a meeting place for technologists, filmmakers and film industry professionals. In 2018, the filmmaker J.A. Bayona opened the event with a masterclass, while last year it was Lucía Peralta who talked about her experience as Digital Matte Painter in productions including "Aquaman" and "Game of Thrones".
Prize money of 10,000 euros and potential funding of up to 500,000
Those wishing to participate can complete the online form provided for this purpose on the Festival website (www.sansebastianfestival.com). A committee of experts will choose five finalists, who will have the opportunity of a year's free access to an incubation space at one of the BICs (Business Innovation Center) in the Basque Technology Park Network, access to all of the Festival activities and events and payment of their travel and accommodation costs to attend the event. The selected projects will be announced at a press conference in early August. Finally, in September, during the Festival, an independent jury will choose the winning project, which will receive 10,000 euros. Both the winner and the four finalists will also have the option to obtain up to 500,000 euros to develop their project in the Basque Country.