Together with Cyber Surgery, Vicomtech collaborates on the SURAI project, advancing towards an intelligent surgical decision support system.
SURAI focuses on automatic and structured knowledge extraction to assist surgeons in the lumbar fusion surgery planning process.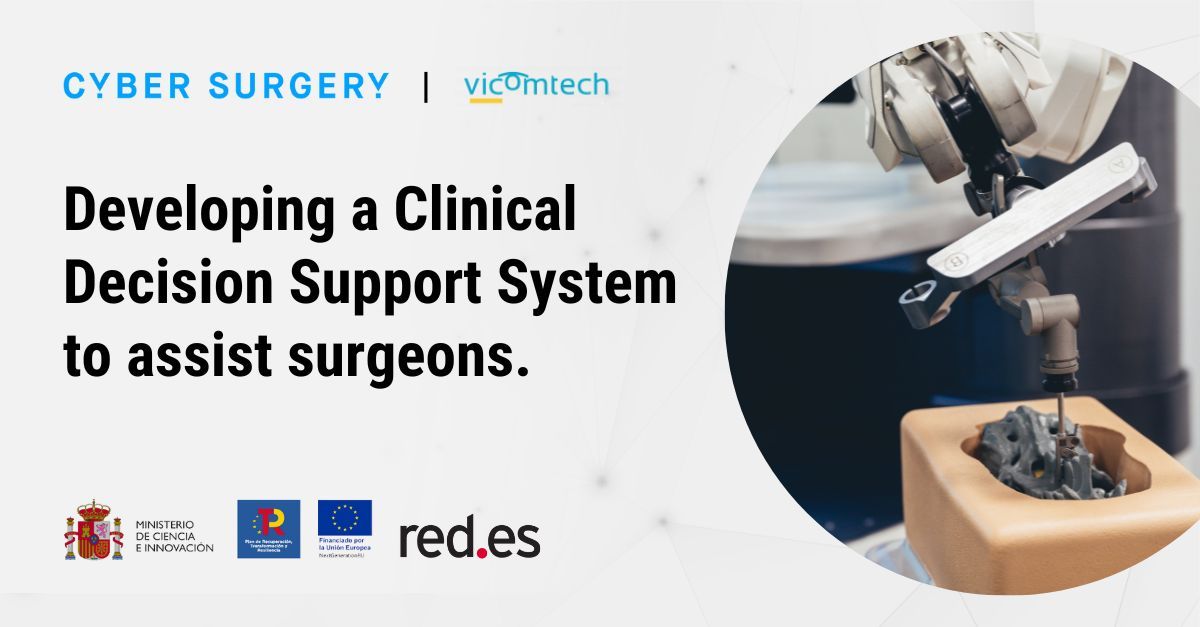 20.07.2023
Within the framework of surgical decision support, Vicomtech and Cyber Surgery are working hand-in-hand on SURAI, a project that aims to develop a Clinical Decision Support System to assist surgeons in the planning process of lumbar fusions.
Cyber Surgery, SL, a recently created company, focuses its activity on the development of a robotic surgical assistant. This robotic assistant is currently oriented to assist the surgeon in spine procedures, initially optimized for transpedicular screw placement.
With the support of Vicomtech and its knowledge and experience in the development of decision support systems, data analytics and artificial intelligence, the aim is to further improve the robot's functions and guide surgeons during lumbar surgery. Thus, the developed system would take advantage of the surgeons' expert knowledge to automate the planning process of transpedicular screw trajectories.
This partnership will further improve and advance the goal of guiding doctors in these types of procedures, applying the latest technology to maximize accuracy and improve spine surgery with robotic surgery. The combination of pioneering technology, medical expertise and government support lays the groundwork for significant future advances in the way patients are cared for.
SURAI has been one of the projects selected in the 2021 CALL FOR AID FOR RESEARCH AND DEVELOPMENT PROJECTS IN ARTIFICIAL INTELLIGENCE AND OTHER DIGITAL TECHNOLOGIES AND THEIR INTEGRATION IN THE VALUE CHAINS c/-ED RED.ES , which has recognized the potential impact of the project and its involvement in the development of initiatives that address current challenges of society.