Vicomtech participates in the Security Research Event 2023 held in Brussels on 24th and 25th October, this year in the framework of the Spanish Presidency of the European Council.
The conference is the annual meeting where industry, policy makers and scientific institutions come together to discuss the current challenges for security research in Europe.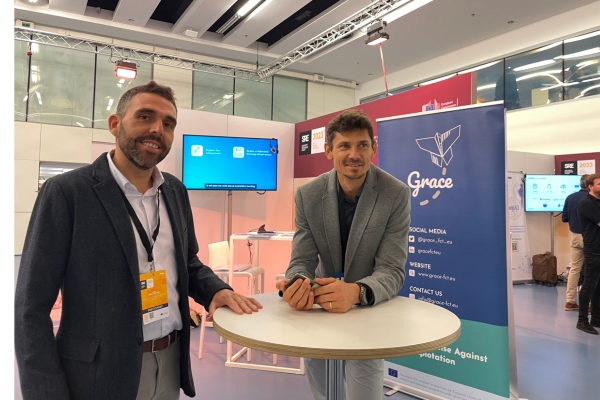 23.10.2023
The Security Research Event, or SRE 2023, is one of the leading events on security issues, and is organised by the European Commission with the support of the Spanish Presidency of the Council of the EU, represented by the Department of Social Challenges, Directorate for EU Programmes and Territorial Cooperation. In the second half of 2023, Spain takes over the Presidency of the Council of the European Union, and together with Sweden, which presided over the first half of the year, both countries collaborate in the organisation of the conference.
This year's event will focus on challenges arising from global trends, which are shifting the ground for security in the EU. The to be addressed fall under the title of the conference: "Societal transformation, digitalisation and climate change – a new paradigm for Security Research?"
Vicomtech has a strong presence at this year's conference, specifically at the stands of the STARLIGHT project, leading the organisation of the Toolfest Workshop; of the GRACE project, as project coordinators, and finally, at the stand of the Spanish Presidency of the Council of the EU, where Vicomtech has the opportunity to present some of the centre's projects.
Firstly, the STARLIGHT project, coordinated by CEA, aims to increase the strategic autonomy of the European Union in the field of AI for law enforcement agencies in order to tackle the main criminal threats. Thus, in the framework of this project, Vicomtech is organising the Toolfest Workshop during the SRE 2023 conference, which aims to showcase the AI tools developed in this project through live practices.
Secondly, Vicomtech is present at the GRACE stand, a project coordinated by our center, which aims to provide European law enforcement agencies with advanced analytical and investigative capabilities to respond to fraudulent actions via the internet.
Finally, two representatives of the center, Dr. Raúl Orduna, Director of the Digital Security and Cybersecurity Department, and David Ríos, from the International Projects Department, will present the use of cryptocurrency tracking tools in police investigations at the Spanish Presidency Stand.
The conference features more than 50 stands, Vicomtech present in 6 of them, showcasing selected security research projects funded by EU programmes, as well as stands presenting the activities of the European Commission, EU agencies in the field of justice and home affairs and Spain's national security research activities.
Undoubtedly, SRE 2023 is a benchmark and high-level event in the field of Cybersecurity, used as a reference for future security research that facilitates and paves the way for a more crime-free and a safer European society.