Vicomtech presents the challenges of connected, cooperative and automated mobility at Go Mobility
Vicomtech participated with a stand at the benchmark fair for the mobility sector where it exhibited its commitment to battery charge management optimization systems, the Proven solution for system testing and validation of autonomous systems, and technologies applied to driver monitoring as well as fleet mobility solutions through integrated data management. In addition, Dr. Oihana Otaegui, Director of the Transport and Security Division, gave a talk on "The challenges for the future of the CCAM: Connected, Cooperative and Automated Mobility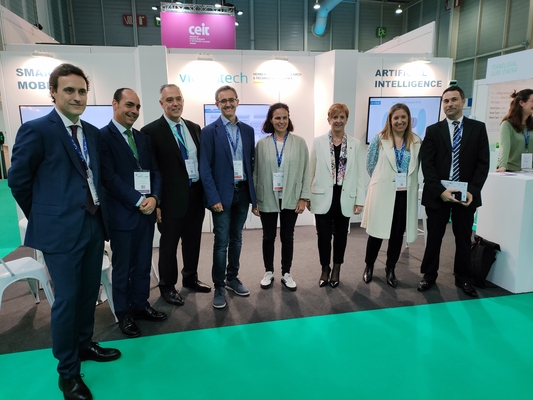 29.04.2022
Go Mobility by Mubil is consolidated as the benchmark professional meeting point in southern Europe for the ecosystem of sustainable mobility. Vicomtech has had an important participation, as in previous editions, which has once again allowed the meeting with various agents of the ecosystem and the exchange of experiences, knowledge, and needs.
Sustainable and efficient mobility is based on two premises: zero emissions and zero accidents. To achieve this ambitious goal, it is essential to have electric, intelligent and connected vehicles. Vicomtech is developing and implementing advanced technologies based on Artificial Intelligence and 5G applied to the sector that will contribute to the sustainable mobility of the future.
At Vicomtech, both the individual perception of each vehicle is worked on, researching and developing technologies for driving automation, as well as the general mobility of fleets through integrated data management. The extensive experience of the center leading large-scale European projects with world-renowned partners positions Vicomtech as a key strategic partner for the development of sustainable, efficient and safe mobility solutions.
For more than 10 years, Vicomtech has been developing artificial vision systems that it applies to the sector, paying special attention to external sensors, which allow the precise identification of the external situation, and to the implementation of internal sensors for monitoring and characterizing the driver. All this provides a holistic description of the driving situation that contributes to the autonomous decision making of the vehicle. The drivers, of course, are still going to play a very important role because at certain times they have to take control and they have to be in a position to do so.
On the other hand, the testing and validation of autonomous systems constitute one of the great stumbling blocks in the generation of these systems due to the amount of data they require. Vicomtech through the PROVEN solution (Mubil Mobility Award finalist) offers intelligent and automatic data management for testing and validation processes.
With regard to recharging management optimization systems and extension of battery autonomy, the center works on the efficient management of routes and recharging planning based on the extraction of driving profiles from routes and characterization of Battery. This reduces the driver's "range anxiety".