Vicomtech releases its breakthrough Video Content Description (VCD) format to ASAM
Vicomtech has made the Video Content Description (VCD) language available to ASAM as a basis for application and future development within the ASAM OpenLABEL initiative. VCD provides a metadata specification format for the descriptions of scenes and data sequences, such as video or point clouds, enabling spatio-temporal object annotations. VCD further includes semantics for describing event and their relationships.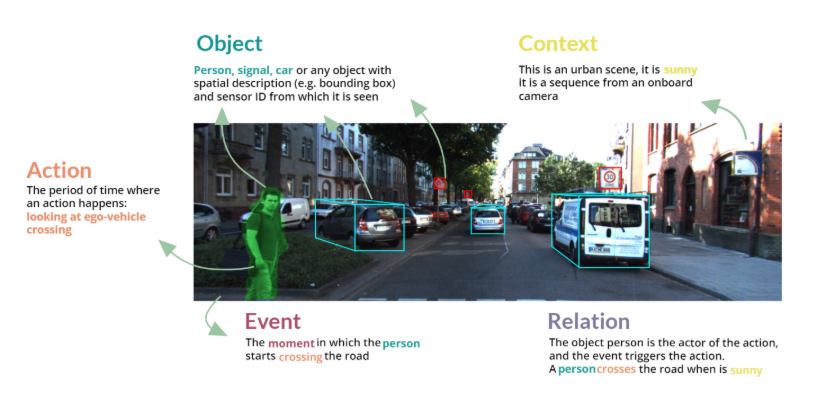 03.08.2020
Video Content Description defines metadata specification formats for multisensory data labelling and scene description. Its long-term goal is to provide a bridge between captured sensor data and scenario extraction that generates labelled data to be used as ground truth for the training and validation of sensor and driving functions.
Vicomtech has decided to put VCD at the disposal of the research community and industry and allow for it to be used as a launchpad for the annotation format of the new ASAM OpenLABEL standard, which is currently being discussed and developed. By releasing VCD it will aid in ensuring sufficient long-term support for the standard within a neutral standardisation organisation. Given its competency and mission, ASAM will promote and further develop OpenLABEL thanks to the significant number of Industry and Research experts from across the globe, contributing to its standardisation activities. After the release of ASAM OpenLABEL 1.0, the standard will be available free of charge for the research community and industry. In parallel, VCD will evolve to be the first fully OpenLABEL compliant labelling language, with an open sourced API available via Github and other frameworks (Pypi, npm, etc.)
About VCD - Data labelling is a major and costly problem in sectors aiming to create and use ground truth labels for massive video archives. Annotation of multi-sensor set-ups with multiple cameras and other devices (e.g. LIDAR, Radar) is of special relevance to the automotive sector engaged in building Autonomous Driving (AD) functions.
VCD is the first open source metadata structure and toolset capable of structuring annotations for highly complex scenes, including an unprecedented flexibility to label both 2D and 3D objects, pixel-wise labels, actions, events, contexts, semantic relationships, and organise them for multiple synchronised sensors.
VCD provides a robust, flexible and efficient annotation format which meets the following requirements:
Annotation of multi-camera and multi-sensor recordings
Management of timestamps for events synchronization
Online annotation for in-vehicle processing units
Linking to ontology-based semantics
Robust search capabilities
Proven extensibility and scalability
Further information on VCD is now available on GitHub and https://vcd.vicomtech.org/