Vicomtech welcomes Algorithmics Donostia students to present their solutions to the "Smart Mobility" challenge
The students of the Algorithmics Python Pro advanced course have had the opportunity to present their projects and solutions to the challenge set by Vicomtech in January 2023, in the field of smart mobility and autonomous cars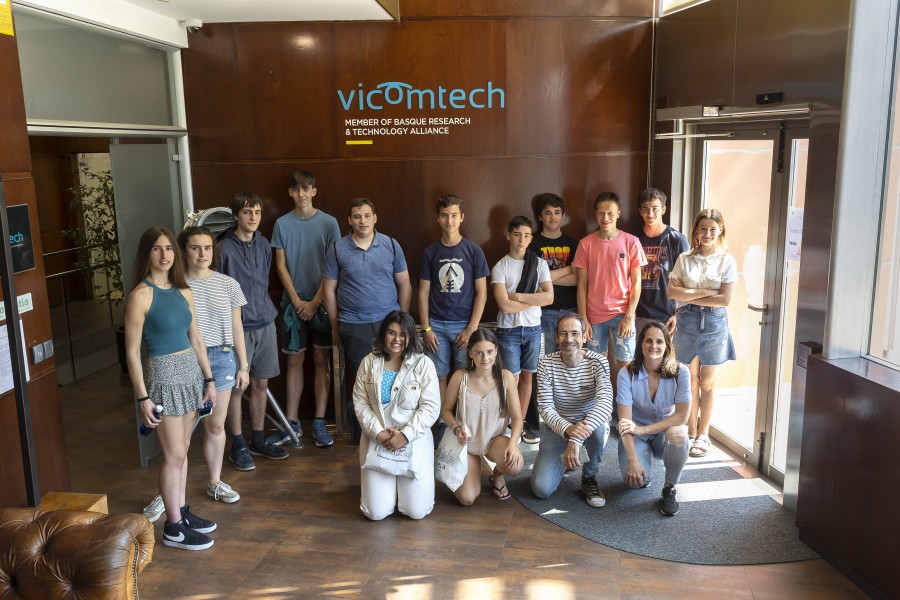 05.07.2023
Algorithmics Donostia, leader in education in programming and digital skills for children and teenagers, has participated in the "Smart Mobility" challenge organised by Vicomtech. During the duration of the challenge, students have worked in groups, proposing solutions and analysing their feasibility, to later focus on a specific project and work as a team to develop the solution and its corresponding programming.
The students have had the opportunity to present the conclusions and learnings of their projects to Vicomtech's management team, as well as the chance to visit the spaces and projects that the centre is currently working on. This has allowed them to appreciate the potential of what they are learning in Algorithmics and to be aware of the great applications of the world of programming in different areas.
"It is essential that our students and their parents are aware of the broad opportunities and fields in which they can apply the concepts and foundations they are acquiring in Algorithmics. It is also important that they can see how everything they learn is not limited to academia, but that they are already able to understand the technology and programming, and to speak the same 'language' as Vicomtech professionals when they explain the challenges they face. They have applied their knowledge and tried to find solutions, acquiring a valuable perspective along the way", says Ivan Aramayo, head of Algorithmics Donostia. In this way, the students have gained an even better understanding and mastery of the world of programming to be able to apply them in environments beyond simple challenges and to face real and professional business environments.
Initiatives such as the one presented by Algorithmics Donostia fit perfectly with Vicomtech's social mission, contributing to broadening the vision of future generations about the potential they can develop in the field of technology and programming, thus providing the necessary tools to help them decide their professional future.
Oihana Otaegui, Director of the Transport and Security Division of Vicomtech highlights that "we have been surprised by the seriousness, professionalism and depth of the analysis carried out by the three groups participating in this challenge. We have been impressed by their ability to tackle problems similar to those we face in our daily work, and to see how they have applied their knowledge, despite having a more limited mathematical background. Their ability to seek and find creative solutions at every stage of the process is a testament to their talent and potential".
Thanks to this enriching collaboration for both parties, it has been possible to raise awareness of the importance of new talent with a technological profile, which undoubtedly contributes to the development of the technological fabric and talent in Donostia.