Oihana Otaegui receives an award from the BRTA alliance for her career and research work
This award recognizes, values and stimulates the work of people who dedicate their efforts to research and develop technology in the centers of the BRTA Alliance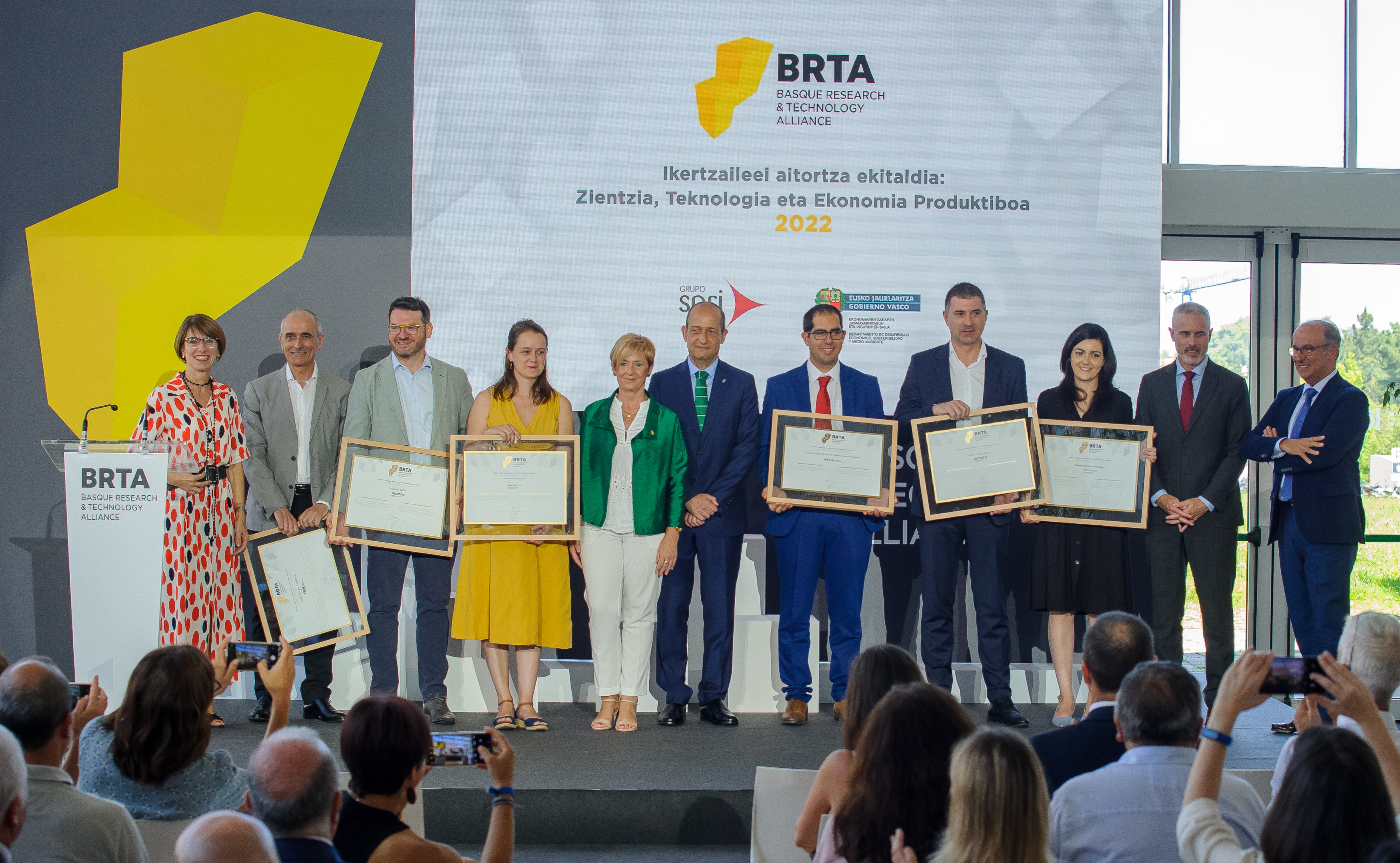 14.07.2022
The first award ceremony of the BRTA (Basque Research & Technology Alliance) alliance took place on July 13 at the Donostia Science and Technology Park, with the participation of Arantxa Tapia, Minister of Economic Development, Sustainability and the Environment of the Government Vasco, and Rikardo Bueno Zabalo, CEO of the BRTA alliance. The BRTA alliance has recognized the work of three researchers for their extensive and fruitful career in the alliance's centers, and three young people for their research projection.
These awards serve to recognize, value and stimulate the work of people who dedicate their efforts to research and develop technology in the centers of the BRTA alliance. Rikardo Bueno, general director of the BRTA alliance, in his introduction highlighted that "the work of all the winners contributes to improving the Basque economy and companies and society in general".
In the Career category, three recognitions have been awarded. The winners have been Oihana Otaegui (Vicomtech), Damien Salle (Tecnalia) and Iñigo Iturriza (Ceit) for their long and fruitful career in their respective centers of the BRTA alliance. Oihana Otaegui works at Vicomtech in the Transport and Security division. Her main area of ​​research is Artificial Intelligence and she has stressed that "in order for companies to be more competitive thanks to our research, universities and technology centers need to work together to generate talent and keep that talent in our territory".
Likewise, in the Research Projection category, the winners for the work carried out to date and a promising future in the field of research have been Marine Reynaud (CIC energiGUNE), Eneko Osaba (Tecnalia) and Andoni Saez de Ibarra (Ikerlan ).
Arantxa Tapia, Minister of Economic Development, Sustainability and the Environment and president of the BRTA alliance, has been in charge of closing the award ceremony for the first prizes awarded by the BRTA alliance. In her final speech and as the closing of the act, she highlighted that "the permanent effort and commitment of excellent researchers must be rewarded. It is necessary to recognize, celebrate and promote scientific-technological research and especially that which has a positive impact on the productive economy and which allows us to be at the forefront of advances".
The awards ceremony has been broadcast live by streaming through the Irekia.eus website.