Once again, Vicomtech participates in the ITS European Congress 2023 that takes place in Lisbon on 22, 23 and 24 May.
Vicomtech takes the opportunity to exhibit the advances of the European projects AIthena and Aware2All and to participate as speakers in several sessions, in one of the most important European events in the framework of intelligent mobility organised by ERTICO-ITS Europe.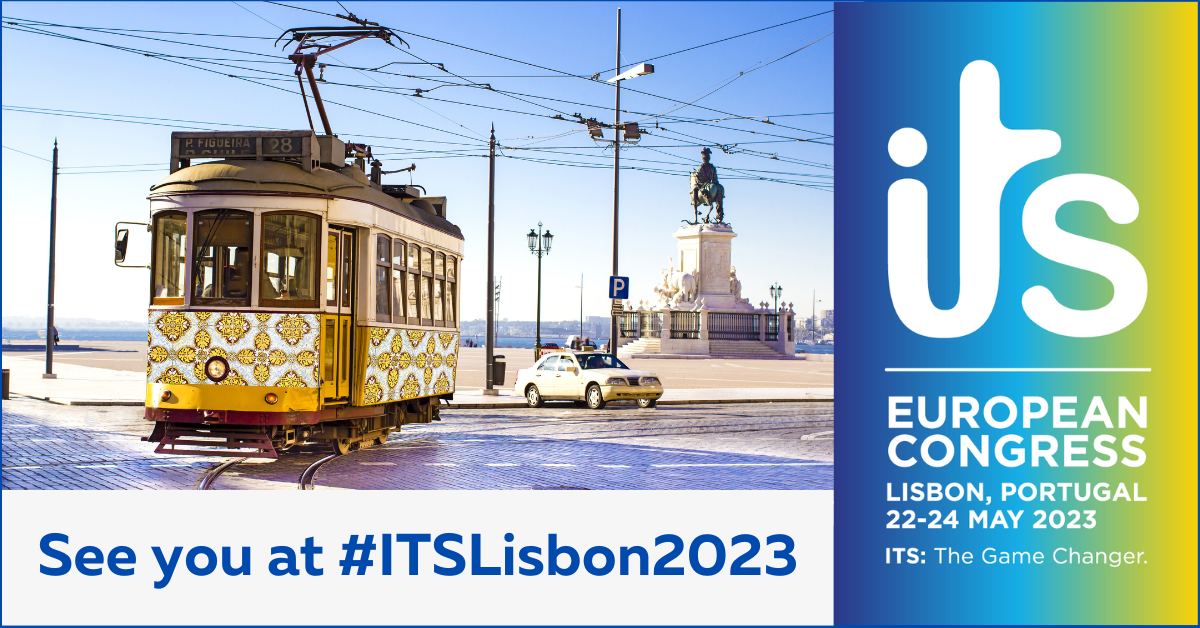 17.05.2023
Presentations, demonstrations and a cutting-edge exhibition under one roof. That is the aim of the ITS European Congress 2023, which this time will take place in the Portuguese capital on 22, 23 and 24 May. It is the largest event entirely dedicated to intelligent mobility and the digitisation of transport.
The ITS 2023 European Congress motivates all companies and organisations from across the broad spectrum of the ITS ecosystem to play a role in the continued development of smart mobility, thus providing a strategic opportunity for the European transport industry to come together and showcase its progress and innovations.
During the three days of the congress, participants have the option and opportunity to organise more specific events as well as the possibility to access networking rooms with other partners and/or exhibitors.
On this occasion, Vicomtech exhibits at its stand the AIthena and Aware2All projects, both within the spectrum of the development of connected and cooperative mobility solutions and funded by the Horizon Europe programme.
On the one hand, the AITHENA project proposes the definition of a common and harmonised methodology for the development and testing of AI-based CCAM solutions, focusing on AI trust pillars to serve different types of end-users: vehicle drivers, feature developers and certification/legal bodies.
On the other hand, the Aware2All consortium, coordinated by Vicomtech, develops inclusive and innovative human-machine interface and safety systems that pave the way towards the deployment of highly automated vehicles in traffic as a perfect alternative to reduce collisions caused by human error.
In addition, apart from the exhibited projects, Vicomtech will present 3 papers in the technical sections aimed at the research community attending the congress:
"Crowd-sourced machine learning model update through connected vehicles" Session CCAM pilots and trials 2. Date: 22/05/2023 at 11:45 a.m. Speaker: Gorka Velez.
"Introduction to AWARE2ALL: Safety systems and HMI for diverse population". Session: Safety and Security 1. Date: 22/05/2023 at 10:30 a.m. Speaker: Marcos Nieto.
"Introduction to troduction to AITHENA: AI-based CCAM: trustworthy, explainable and accountable". Session Safety and Security 2. Date: 22/05/2023 at 11:45 a.m.
...in addition, several members of the team participate and lead several sessions:
"Scenarios for whole lifecycle CCAM safety and performance assurance" led by Oihana Otaegui. Date: 23/05/2023. Time: From 15:15 to 16:15
"New ITS services and applications enabled by 5G", organised by Vicomtech y led by Oihana Otaegui. Date: 24/05/2023. Time: From 14:00 to 15:00
"Session Strategies towards mobility data-as-a-service: discrepancies and commonalities" led by Oihana Otaegui in collaboration with more partners. Date: 24/05/2023. Time: From 9:00 to 10:00
Session "AI and Real time trusted data for next generation intelligent vehicle cockpits", in which Harbil Arregui takes part. Date: 22/05/2023. Time: from 11:45 to 12:45
The centre is also participating in the second 5G META Hackathon, a project coordinated by Vicomtech, on 22 and 23 May at the congress itself, in which participants will have the unique opportunity to be among the first precursors to access and use the software components of the 5GMETA Platform. Gorka Vélez Isasmendi, Ángel Martin, Felipe Mogollón and Juan Diego Ortega, from Vicomtech, will participate as mentors during the Hackathon.
In short, this is a major event framed within the digitalisation of transport, which will undoubtedly lead to very profitable conclusions that will bring us one step closer to the future of smart mobility.