Roberto Viola receives the award for research projection from the BRTA alliance
The Digital Media researcher participates in different national and international projects to research and develop future 6G networks that integrate AI and allow more efficient infrastructure management.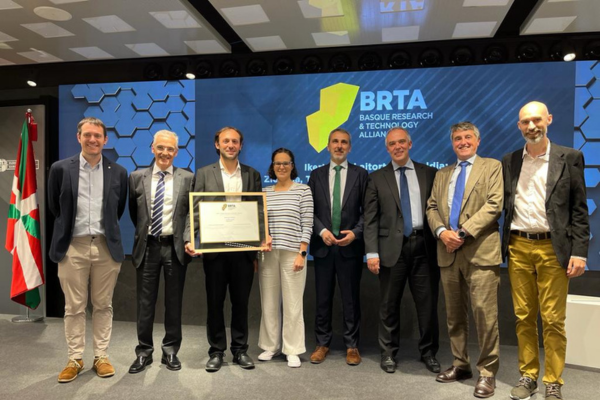 05.06.2023
The BRTA (Basque Research & Technology Alliance) awards ceremony took place at the Bizkaia Science and Technology Park, with the institutional participation and the general director of the BRTA alliance. BRTA has recognized the work of three researchers for their long and fruitful careers in the alliance centers, and three young promises for their research projection, including Roberto Viola, Vicomtech Researcher.
These awards serve to recognize, value and encourage the work of people who dedicate their efforts to research, develop and transfer technology in the centers of the BRTA alliance. The work of all the winners contributes to improving the economy and Basque companies and society in general. Rikardo Bueno, general director of the BRTA alliance, has been in charge of starting the event. Next, the Minister of Economic Development, Sustainability and Environment and president of the BRTA alliance has taken the floor.
In the Career category, three recognitions have been awarded. The winners have been Elena Palomo del Barrio (CIC energiGUNE), Artzai Picon Ruiz (Tecnalia) and Javier Del Ser Lorente (Tecnalia) for their long and fruitful career in their respective centers of the BRTA alliance.
Likewise, in the Research Projection category, the winners for the work carried out to date and a promising future in the field of research have been Amaia González Garrido (Tecnalia), Borja Pozo Larrocha (Tekniker) and Roberto Viola (Vicomtech). .
Researcher Roberto Viola works in Vicomtech's Digital Media area. As he has indicated, "there is much talk about the deployment of 5G, but in reality we are already working on future 6G networks in research. What 6G will allow is the integration of artificial intelligence within the networks and will allow these networks to be managed more efficiently".
Lehendakari Iñigo Urkullu has been in charge of closing the award ceremony for the prizes awarded by the BRTA alliance.
The awards ceremony has been broadcast live via streaming through the BRTA Youtube channel.