Vicomtech and Lantek make Progress on Interactive 3D
The two companies are strengthening their collaboration applied to sheet metal cutting heat processes in order to offer solutions that allow for production processes to be optimized and simplified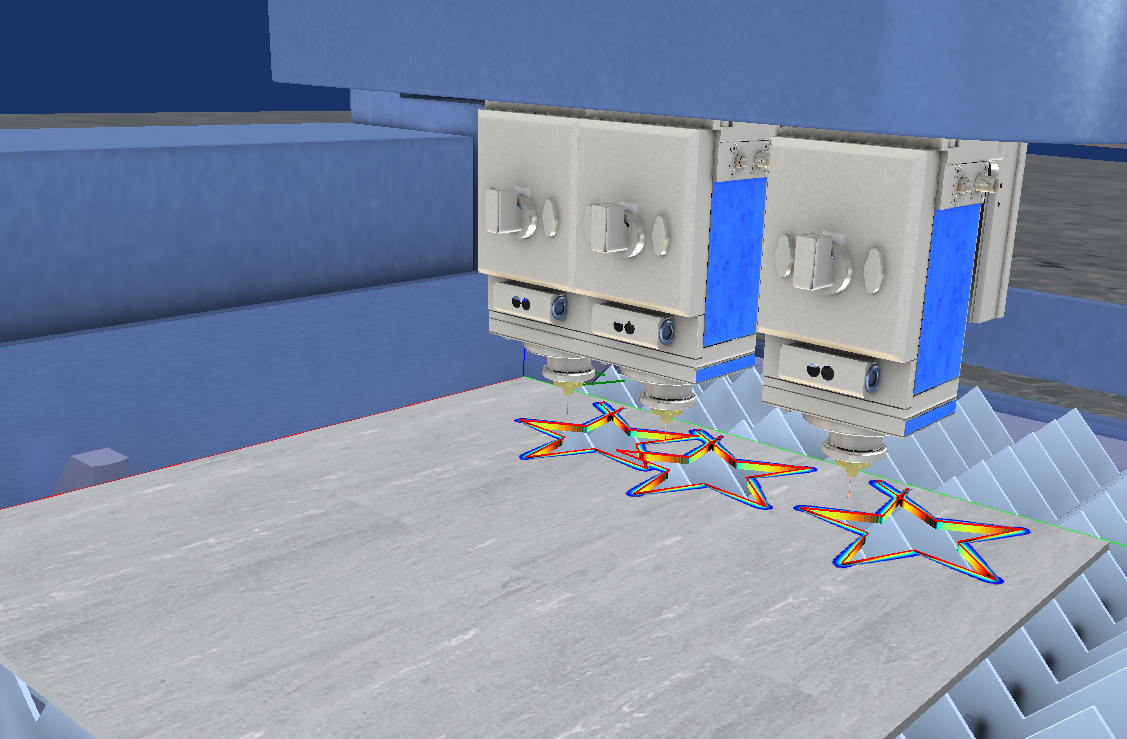 20.12.2018
Vicomtech together with Lantek, a multinational pioneer in the digital transformation of the industrial metalworking sector, are working to advance on the interactive 3D simulation applied to sheet metal cutting heat processes.
This collaboration follows up on the results received from the BeroSim project, an initiative that allows users to have a virtual model that allows them to see how heat affects sheet metal as it is cut and predict the effects that it will have on the material (deformation, changes to thickness or quality, etc.).
Through 3D interactive simulation, this innovation was made available to the industry in order to increase production efficiency, allowing for significant savings on resources, by anticipating and avoiding potential material deformities in the cutting process.
With this renewed commitment, both organizations have taken one step further in their aim of offering the metal and sheet metalworking industry innovative solutions and services that respond to its needs and provide real and continuous added value. Thanks to the research progress made by the Vicomtech Technology Center, multi-head cutting machines have a mathematical extension that provides them support and improves their performance.
The main benefits offered by these advancements to the industries of the sector are:
First, it makes a tool to optimize numerical control (NC) programs available to the metal and sheet metalworking industry before bringing them to the plant, allowing for the resulting human resources and materials savings.
Second, the speed reached in execution allows more tests and optimizations to be carried out at the same time as layout.
Third, visual verification of the temperature of the sheet metal helps designers to understand and identify which nesting pieces are problematic and which are not.
This technology has been proven by the laboratory process to calculate the heat of materials and Lantek is currently analyzing its incorporation into commercial products related to machining pieces of sheet metal. In this regard, Asier Ortiz, Lantek's Director of Operations, indicated that "These virtual heat generation and dissipation models greatly help prevent the production of parts that will not pass quality assurance due to deformation or deterioration of their physical qualities as a result of excessive heat. In manufacturing processes where special materials that are quite thick are worked with, it is essential in order to ensure results."
Dr. Jorge Posada, Associate Director of Vicomtech, gave a very positive evaluation of this collaboration, which fits perfectly with the center's mission: the transfer of technology to companies. "Collaborating with Lantek is a great example in which a top company from our Basque industrial fabric, though one with a clearly international calling, knew how to identify interesting problems and challenges requiring research and innovation that may have a global impact. For Vicomtech it is very satisfying to be able to contribute our scientific and technological expertise in this way and demonstrate that this collaboration has significant results at the international level."
The results of this solution have been verified and compared with those obtained by the sales software and they were very satisfactory. Also were endorsed by the journal Materials, a high-impact scientific publication, which echoed this research with an article.