Vicomtech and RTVE present their advances in automatic subtitling at the Royal Academy of Engineering
This is the first demonstration of precision automatic subtitling in the framework of the collaboration between Vicomtech and RTVE, enhanced using Artificial Intelligence and Speech and Natural Language Technologies.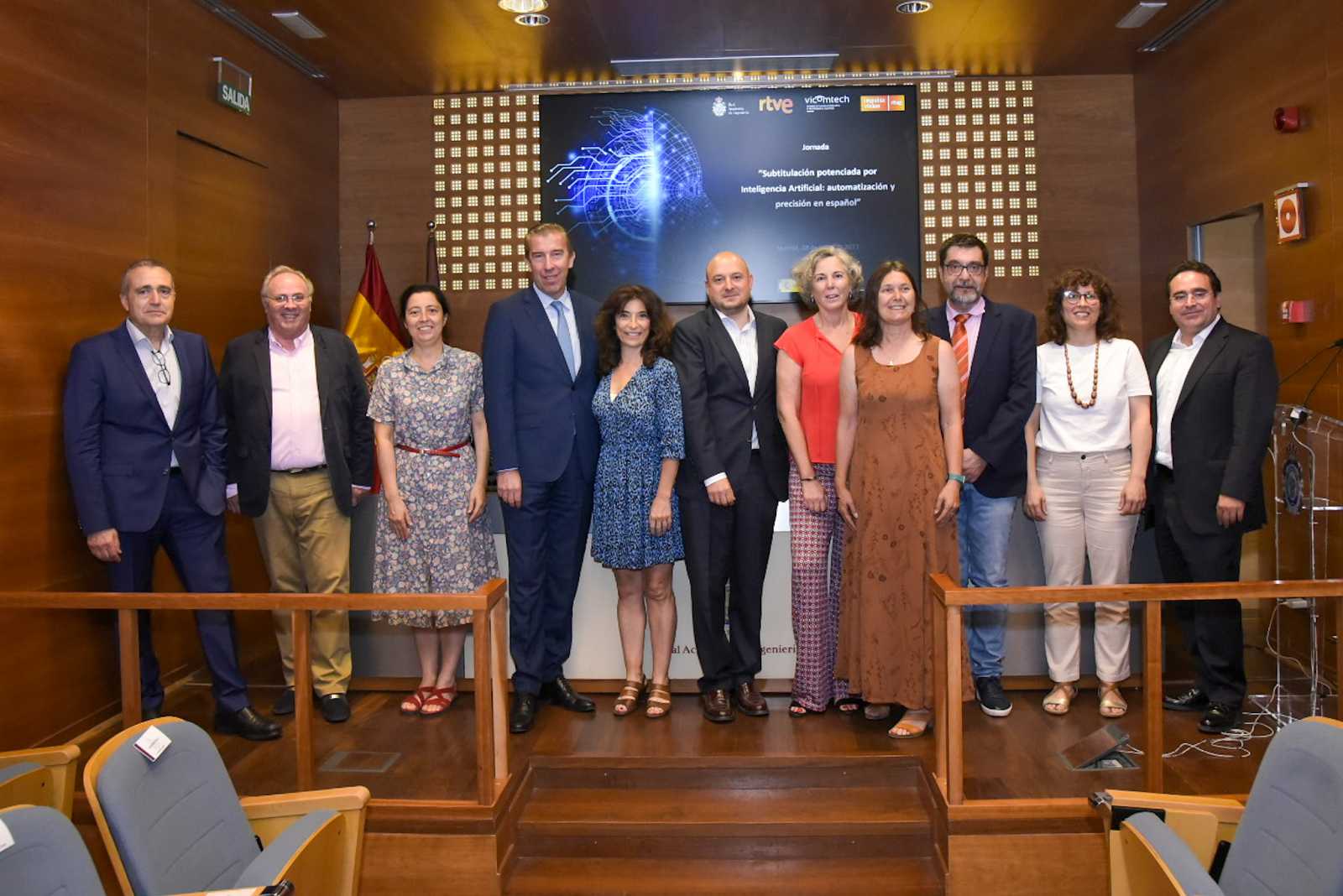 12.07.2023
Vicomtech and RTVE have presented the latest advances in the field of automatic subtitling at the Royal Academy of Engineering in the conference "Subtitling powered by Artificial Intelligence: automation and precision in Spanish".
Although Speech to Text or automatic subtitling technologies have advanced significantly in recent years, RTVE has always needed very demanding requirements and quality standards based on norms, which none of the existing platforms on the market could meet.
Hence the birth of the collaboration between Vicomtech and RTVE, under the framework of Impulsa Visión Empresas. The objective was to improve the IDAZLE automatic subtitling platform so that it could be integrated into the workflow of RTVE's subtitlers.
As a result of this collaboration and the promising results, it was decided to move forward to improve the results in terms of subtitle segmentation; a pending issue not resolved by the Speech to Text systems and absolutely essential to obtain subtitling of such a high quality as that provided by RTVE.
To this end, it was decided to apply a hybrid model, based on rules and Artificial Intelligence. And, in addition, within the field of Artificial Intelligence, to use both Machine Learning and Deep Learning models that "learn" the correct subtitling to be able to apply it to segmentation, a fundamental role acquired by Vicomtech.
More than 70% of the RTVE Accessibility Unit's subtitling staff have been able to participate in the process of applying this technology. The improvements obtained are so evident that not only productivity increases, but it is only necessary to retouch 20% of the segmentations obtained through the automatic subtitling process, with a very high quality that satisfies not only RTVE's requirements, but also those of any broadcaster in the market that needs to subtitle in Spanish.
Thus, the details and results of the process were presented at the Royal Academy of Engineering, as well as a live demonstration of the subtitles generated by the system provided by Vicomtech without any kind of retouching. Everyone agrees that it is a tool that greatly facilitates their daily activity, considering it a platform that significantly facilitates their work.
Undoubtedly, this collaboration is the starting point to establish a change of paradigm in the activity of subtitlers, as well as introducing improvements in the quality of the subtitling service used by RTVE.
María Teresa Linaza, Director of Institutional Relations and Promotion, and Arantza del Pozo, Director of Speech Technologies, represented Vicomtech at the event.
* Image: Participants in the conference