Vicomtech-IK4 organises the Workshop "HDR in UHDTV, the future of TV goes beyond HD"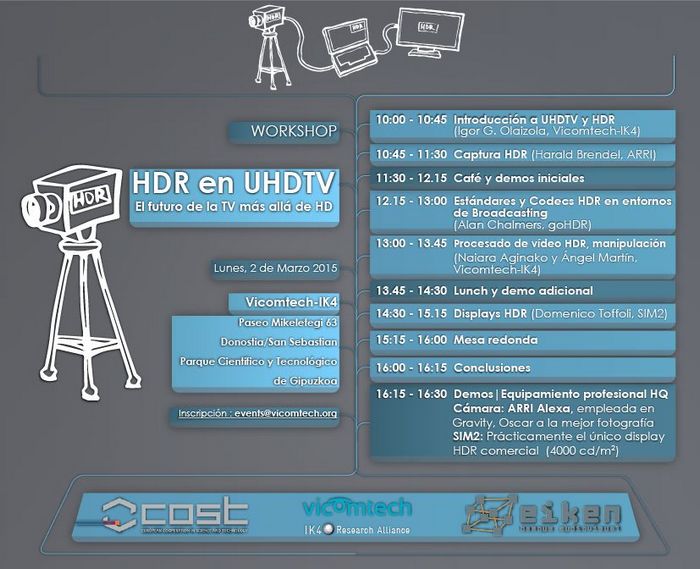 24.02.2015
On 2nd of March 2015 in Donostia-San Sebastian, Vicomteh-IK4 brings together international experts on High Dynamic Range (HDR) images.
The human eye is able to distinguish details with a higher lighting difference than in a film or in usually used image compressions formats. Vicomtech-IK4, as part of a European consortium, works on the development of a technology that allows to benefit from the human eye ability, to improve user's experience in image and video formats.
This technology goes beyond the increase of image resolution and 3D images, since this system will allow to obtain a greater realism than in video format. Up to now this great realism was only possible to obtain in still images.
HDR is a set of techniques to achieve a greater realism to combine light and dark areas of an image allowing to display details that are currently hidden. The objective is to benefit from human eye abilities in order to offer an enriching experience.
During the workshop key points within a production chain are analysed focusing on the compression algorithms that support this technology.
Apart from representatives of different media producers and audio-visual agents, the following international experts take part in the event:
Domenico Toffolli, founder and R+D director in the SIM2 Multimedia SpA Italian Company, leader in the video projection systems and big screen design, production and distribution.
Alan Chalmers, professor of Warwick University (Great Britain), founder and Innovation director of goHDR 2009.
Harald Brendel, R+D department responsible in ARRI, German Company leader in professional equipment for filming.
More information: http://hdrworkshop.vicomtech.org/program---es.html