Vicomtech opens a new headquarters in Bilbao
The Mayor of Bilbao, Juan Mari Aburto today visited the new headquarters. The center foresees the hiring and incorporation of people with STEAM profiles linked to applied industrial research.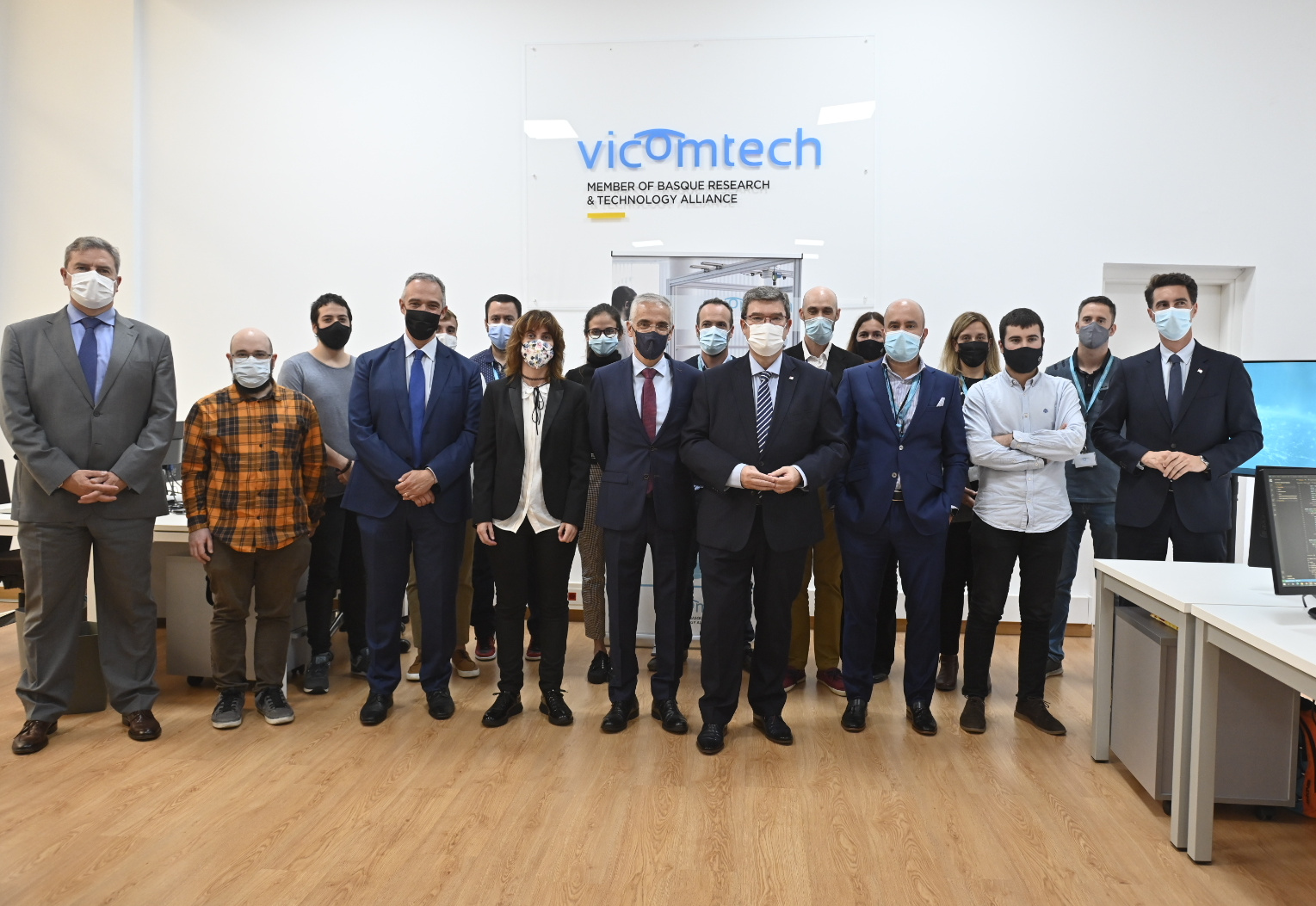 05.10.2021
Vicomtech has just established a new headquarters in Bilbao. After 20 years of activity and growth in the Donostia / San Sebastián Science and Technology Park, where currently around 200 applied industrial research professionals carry out their activity, Vicomtech is now opening a new stage, in the Ensanche Building facilities, in collaboration with the Bilbao City Council.
With this collaboration, in this first phase, in addition to continuing to expand its activity, training sessions will be offered to companies from different sectors related to the application of Artificial Intelligence solutions. This meets one of the challenges of the City Council for the economic fabric of the Town.
On the occasion of the arrival in Bilbao of this Technological Center, Mayor Juan Mari Aburto, together with the Councilor for Economic Development, Trade and Employment, Xabier Ochandiano, visited the new facilities today and exchanged impressions with its General Director, Julián Flórez and the rest of the team. He has shown his satisfaction for choosing "our city to continue developing and evolving in a city, like Bilbao, which has in the deployment of the digital industry and the attraction of talent one of its priority axes. "
For his part, the director of Vicomtech has indicated that following its mission of transferring technology to companies and training specialized researchers, and reaffirming its proximity to the productive and business fabric of the Basque Country, "the new Vicomtech headquarters will be a further step in this same direction. " For this, it will collaborate closely with the Universities and Educational Centers located in Bilbao and will contribute to the technological development of the area.
HIRING FOR THE NEW CENTER
The Center, as they have explained, foresees the hiring and gradual incorporation into its offices of people with STEAM profiles linked to applied industrial research, to strengthen and expand its work teams and continue to provide solutions to companies with proximity and efficiency.
During the Mayor's visit, they also presented the implementation strategy in the city, as well as the lines of research developed by the center and which will now be reinforced from the new headquarters in Bilbao.
Vicomtech will hold in the coming months a series of 7 conferences related to the application of Artificial Intelligence solutions aimed at companies from different sectors, to bring their capabilities closer together and learn first-hand about the technology and digitization needs of the attending companies.