Vicomtech participates in the BIEMH 2022 with solutions applied to local companies
One more year, Vicomtech shows its technologies through real solutions developed with companies in the environment that contribute to the integration of the most advanced artificial intelligence technologies in industrial plants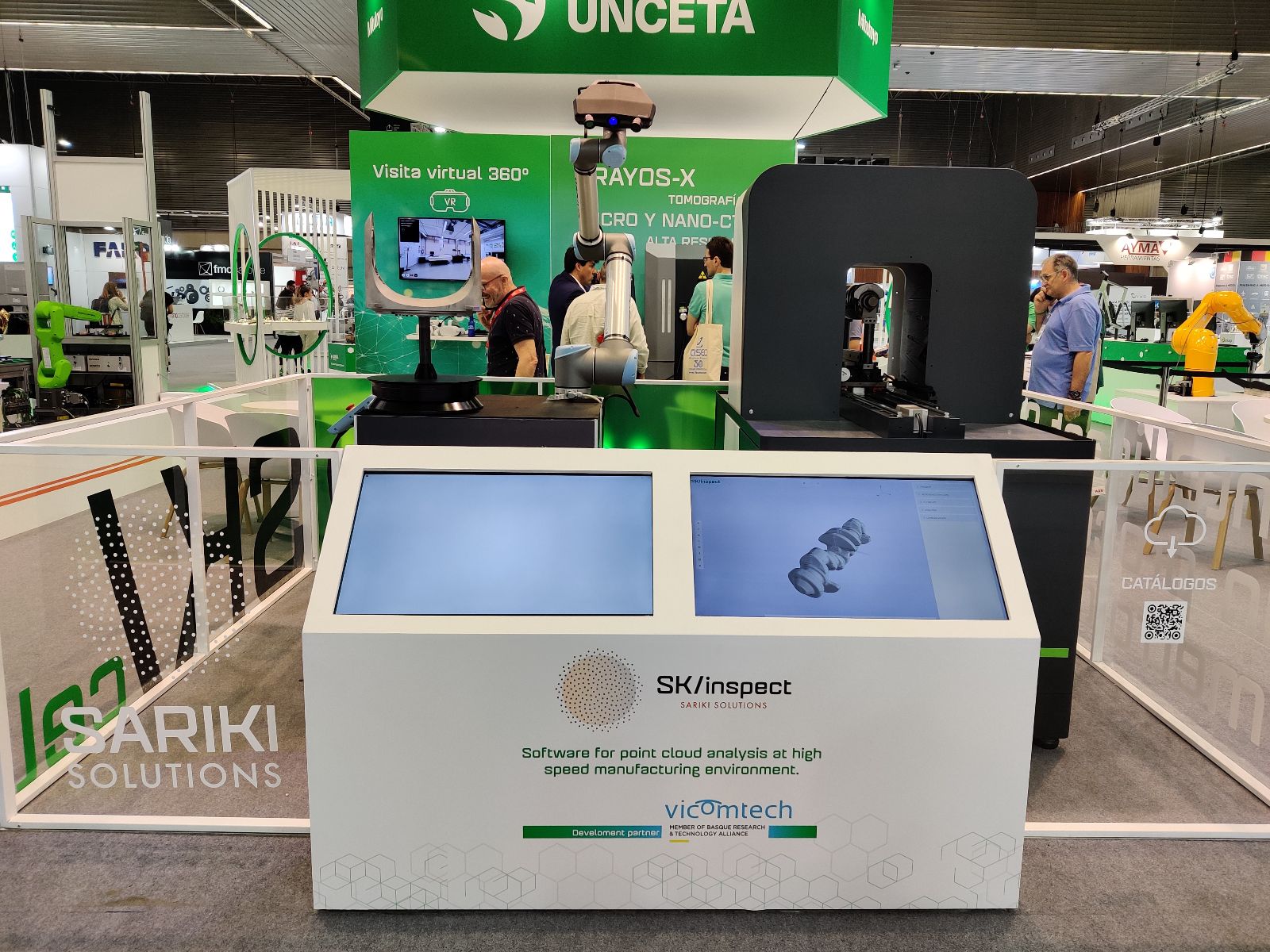 13.06.2022
In 2022, the leading trade fair for the machine tool, industry and advanced manufacturing sector will be recovered. One more year, Vicomtech shows its technologies through real solutions applied in companies in the environment that contribute to the integration of the most advanced artificial intelligence technologies applied to Data Intelligence, artificial vision, 5G or Digital Twins in industrial plants.
Collaboration with Sariki. Pavilion 3 Stand C31. Sariki exhibits its well-known SK Cell solution, in constant evolution, which incorporates the latest research and development results in artificial vision from Vicomtech. SK Cell is a high-speed, non-contact robotic inspection system for large components that integrates the SK/Inspect software developed with Vicomtech. It consists of an advanced online inspection solution based on the integration of a high-speed scanner and a flexible multi-axis robot. This non-contact 3D measurement system uses structured light scanning technology. Through the 3D point cloud color map it provides, feature and surface data is quickly captured and processed for accurate measurement.
SK/Inspect presents a people-centered approach, providing individual tools for the different actors involved in the metrology process. The SK/inspect data stream can be fully integrated into a smart connected factory, allowing the implementation of advanced analytical tools using data intelligence techniques.
Collaboration with Infaimon. Pavilion 3 Stand B19. At the Infaimon stand we present our technological asset developed in collaboration with Ekide and Ekin to automate and improve the quality inspection process for brushes manufactured by EKIN, which replaces a manual inspection process. This quality inspection system based on stereophotometric capture, together with the analysis software developed by Vicomtech, improves the inspection process for the detection of defects on the surface of the broaches and reduces the time spent inspecting each one of them. they.
Vicomtech help companies on their path to digitization, advanced manufacturing and excellence with cutting-edge technologies based on digitization and artificial intelligence. The implementation of its solutions in production plants helps companies to be more competitive in a global market marked by technological transformation.