5G-MOBIX performs the first public demonstration of autonomous driving supported by 5G technology on the border between Spain and Portugal
Vicomtech participates as a partner in this project that develops and implements 5G technologies for advanced connected and automated mobility services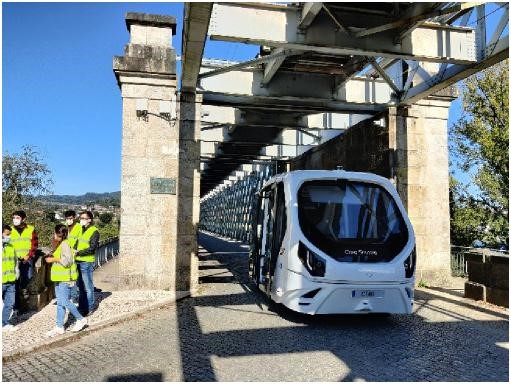 21.09.2022
The demonstration will showcase the impact of tested solutions through various scenarios that target the specific characteristics of this dynamic border route, and rely on the low latency and service continuity enabled by the 5G network.
The primary goal of 5G-MOBIX is to set up the basis for the deployment of 5G corridors, providing indications to policymakers, private and public investors, and relevant industries on the potential of sufficient and reliable 5G capacity and coverage based on the demands of connected, automated vehicles. The second is to give a strong impulse to business opportunities development around 5G for CAM services and applications. We believe that such services will contribute to improved road safety, traffic management efficiency and driving comfort, as well as reduced carbon emissions.
"The EU's single market benefits from seamless cross-border transportation, while at the same time connectivity suffers from interruptions when crossing borders," says Coen Bresser, Senior Manager of Innovation and Deployment at ERTICO-ITS Europe and 5G­MOBIX Project Coordinator.
CAM use cases come with challenging connectivity requirements, especially in a cross-border context, where 5G technology deployment may be slower than in densely populated urban centres. Various configurations, scenarios and 5G features (Pic.2) have been tested on public roads under diverse traffic, network coverage and service demand conditions, as well as considering the distinct legal, business, and social aspects at each site. Their performance was evaluated in the context of cross‑border challenges concerning telecommunication infrastructure, application security, privacy and regulatory issues.
5G-MOBIX consortium brings together 58 partners from 13 countries in the EU, Turkey, China, and South Korea. The project Spain-Portugal Cross-border Corridor connects the cities of Vigo and Porto and its research team covers the complete value chain, from car manufacturers, telecom operators, to public authorities and research institutions. Together they have explored the challenges of seamless interoperation between multiple operators from different countries.
"Automated driving needs seamless connectivity, and today 5G-MOBIX proves that it is possible across the Spanish-Portuguese border, not only through technology, but for a large part through cooperation in this complex stakeholder group," highlights the 5G­MOBIX Project Coordinator.