RAPID, a project for the safe return to full, industrial and economic activity
Together with IKERLAN and TECNALIA Research and Innovation Vicomtech works at RAPID, a project to return to full, industrial and economic activity is carried out safely.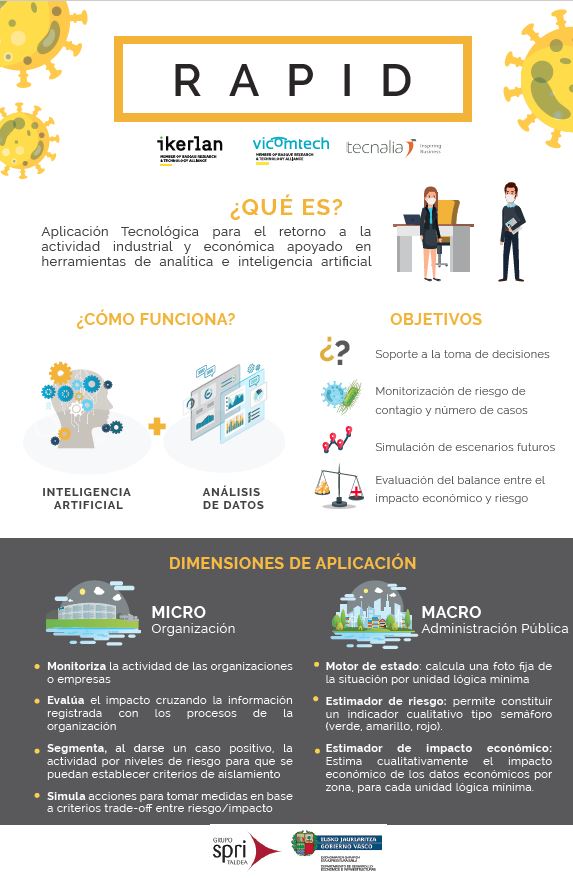 20.07.2020
It is a collaborative effort within the BRTA Basque Research and Technology Alliance initiatives to face the challenges related to COVID19 with the support of the SPRI Group.
Rapid's mission is to collect activity data and apply mathematical models for descriptive analytics and assess situations in real time. In addition, they have developed Artificial Intelligence modules that support data-based decision making and simulation models of future scenarios that seek to reduce risk and maximize productivity. It also allows monitoring of the contact and number of cases in order to carry out an evaluation of the balance between economic impact and risk.
The project has two application scenarios, micro and macro. The first affects an organization or company and aims to create tools that can monitor the state of people in each organization and thus tools that can make precise and segmented decisions, avoiding having to make global decisions.
In the macro sphere, RAPID seeks to generate management models for economic reactivation in the form of a tool for Public Administration, which can obtain an overview with details of companies, regions, etc.