The Mobility and Logistics Cluster organizes, together with the UPV/EHU, the summer course «New connected, sustainable, cooperative and safe mobility».
Oihana Otaegi, Director of the Transport and Security Division of Vicomtech, participated in the event held on 22 June, which focused on reviewing the new climate and technological situation in relation to the new mobility.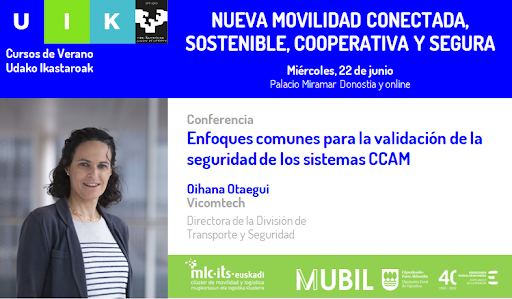 23.06.2022
We live in a time of constant change, both in terms of digitalization and in social and climatic terms. This has led to the emergence of new forms of Mobility which, thanks to the growing availability of data from all stakeholders, including users and supported by technology, allows not only automation and the switch to autonomous vehicles, but also smart management and the emergence of new services.
This is the theme of the event offered by the Mobility and Logistics Cluster of the Basque Country and the UPV/EHU, with the participation of the Director of the Transport and Security Division, Oihana Otaegi. This summer course reviewed the climate alarm situation and tried to advance short- and medium-term forecasts from a technological and market point of view, analysing the technology, challenges and opportunities in this field.
Deepening on autonomous driving, Oihana's speech reviewed the main systems involved and emphasized their safety. Thus, he stressed the need to sensitize infrastructures and vehicles to enable the deployment of safe and cooperative systems (communicated with each other), in which artificial vision and communications will play a key role. At the same time, he warned of the role of the validation of autonomous systems, a complex process, of enormous coverage and very expensive in terms of the resources it requires.
Every year, together with the University of the Basque Country, the Mobility and Logistics Cluster of the Basque Country organises summer courses on electric and sustainable mobility.