Vicomtech arranges a Workshop in Miramon about Artificial Intelligence applied to industry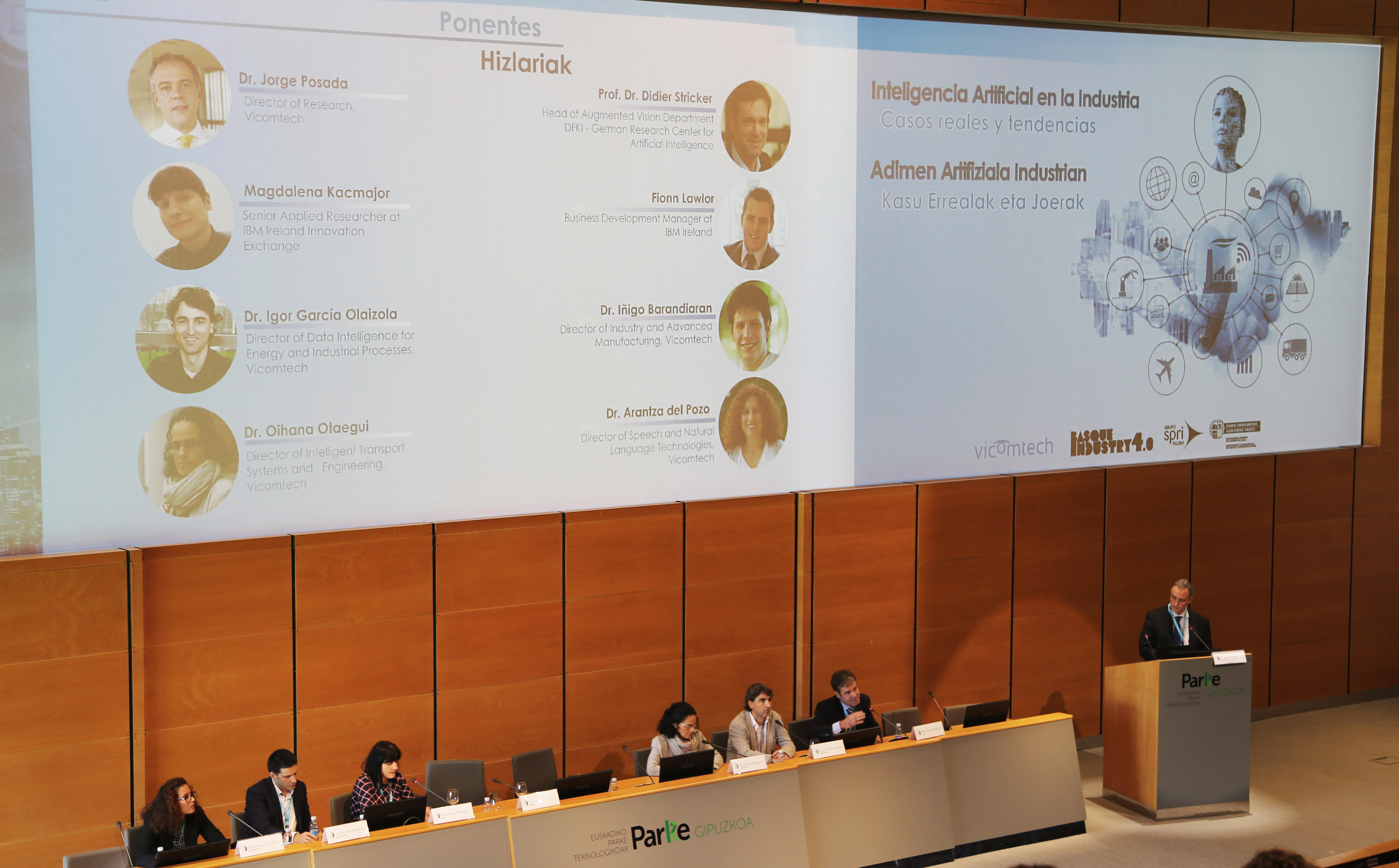 29.10.2018
Last 9th October Vicomtech organised a workshop on Artificial Intelligence applied to Industry in the headquarters of Technology Park of Gipuzkoa, in collaboration with Basque Industry 4.0, Spri Group and Basque Government.
Near 200 attendees joined this workshop: professionals of different reference companies of the industrial sector, Institutions, clusters, universities, and technology centres.
This workshop aimed to explain the radical transformation Artificial Intelligence means to many sectors, specifically to Industry and Advanced Manufacturing where it acts as a fundamental enabling technology within the Industry 4.0 paradigm.
Dr. Iosu Madariaga, Director of Technology and Strategy at the Basque Government, together with Prof. Dr. Julián Flórez, General Director of Vicomtech, were in charge of welcoming an event that had speeches of many specialists, some of them international speakers.
Next, Dr. Jorge Posada, Director of Research at Vicomtech, gave his opening speech. He settled basis by explaining main concepts and trends of Artificial Intelligence applied to Industry.
Following Dr. Didier Stricker, Head of Augmented Vision Department at DFKI, set out the applications of Artificial Intelligence and Augmented Vision to Industry. By showing practical cases, he showed Augmented Vision solutions focused both on support to industry processes, as well as on support to people on said processes.
Dr. Iñigo Barandiaran, Director of Industry and Advanced Manufacturing at Vicomtech, and Dr. Arantza del Pozo, Director of Speech Technologies and Natural Language at Vicomtech too, explained the application of Artificial Intelligence by showing real cases.
Magdalena Kacmajor, Senior Applied Researcher, and Fionn Lawlor, Business Development Manager, from IBM Ireland Innovation Exchange gave their opinion from the Data Analytics point of view.
Last, Dr. Oihana Otaegui, Director of Intelligent Transport Systems and Engineering, and Dr. Igor García Olaizola, Director of Data Intelligence for Energy and Industrial Processes, from Vicomtech closed this event by contributing with their knowledge and vision on Artificial Intelligence applied to Intelligent Transport, Mobility, and Data Analytics.