Vicomtech organiza y acoge el workshop de explotación de resultados del proyecto europeo MIDAS - Meaningful Integration of Data, Analytics and Services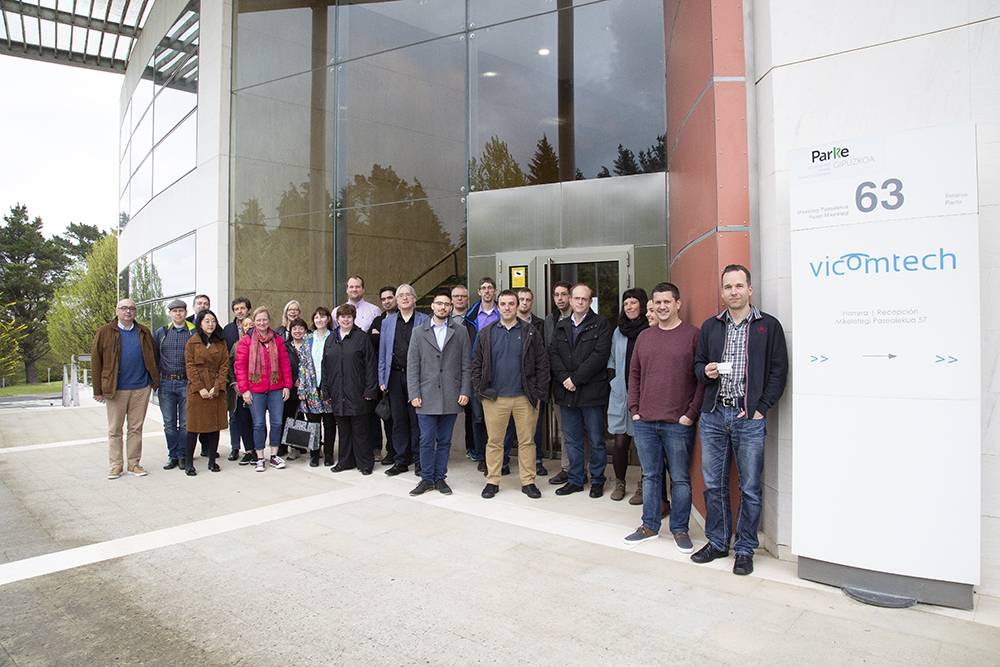 10.04.2019
Midas, Meaningful Integration of Data, Analytics and Services, es un proyecto europeo cuyo objetivo es el despliegue de una plataforma big data unificada que apoye las necesidades de legisladores y ciudadanos europeos definiendo y evaluando políticas públicas de sanidad en base a datos heterogéneos de salud.
Durante los días 10 y 11 de abril se reunen los socios del proyecto en Vicomtech para contrastar los avances del pilotaje de la primera versión de la plataforma e identificar necesidades pendientes de datos, analíticas y visualizaciones. Se presentan también nuevas funcionalidades en desarrollo para la segunda versión de la plataforma con el objetivo de validar el plan de desarrollo y además, se ha organizado un workshop de explotación de los resultados del proyecto para debatir las alternativas de comercialización de la solución o parte de sus módulo.
El principal objetivo tecnológico del proyecto es desarrollar una plataforma pionera de big data en Europa para generar conocimiento que ayude a tomar decisiones basada en datos de salud y realizar el pilotaje en 4 sistemas sanitarios como son Irlanda del Norte, República de Irlanda, País Vasco y Finlandia. Todo ello se realizará cumpliendo los más altos estándares de protección de datos y de ética.
Vicomtech es el responsable del paquete de trabajo Architectures and Data Sources. Sus tareas se centran en coordinar la identificación y descripción de los datos (metadatos), desarrollar la lógica de preparación de datos de gran volumen para su posterior análisis, harmonización de datasets y la ingesta de los datos preparados para la plataforma de analíticas.
El consorcio está formado por 13 socios de 6 países y está coordinada por la Universidad del Ulster. Los socios de empresas industriales son: Analytics Engines Limited, (NI-UK), Quintilligence Inteligentno Upravljanje Z Znanjem Doo (SL) e IBM Ireland Limited. Las universidades que participan en el proyecto son Arizona Board of Regents (USA), Dublin City University (IE), Katholieke Universiteit Leuven (BE) y Oulun Yliopisto – University. Como centros de investigación participan Vicomtech y BIOEF, Fundación Vasca de Innovación e investigación sanitarias, ambos locales, además del Teknologian Tutkimuskeskus Vtt Oy (VTT, FI) y como organizaciones públicas sanitarias forman parte Regional Business Services Organisation (BSO NI-UK), dEPARTMEN OF hEALTH (Public Health England) (EN-UK) y South Eastern Health and Social Care Trust Nhs (NI-UK) y Terveyden Ja Hyvinvoinnin Laitos (THL - FI). El proyecto MIDAS está financiado por la convocatoria H2020 SC1-PM-18-2016- Big Data supporting Public Health policies.