Vicomtech will present its technological capabilities of Artificial Intelligence applied to security at Tecnosec on 11 and 12 May
Vicomtech will present applications of Artificial Intelligence to security in three fundamental aspects: automatic image and video processing and analysis, speech and natural language technologies, and digital security. Their participation will take the form of a stand and the participation of David Ríos in the round table Application of new technologies for Security, as well as another focused presentation.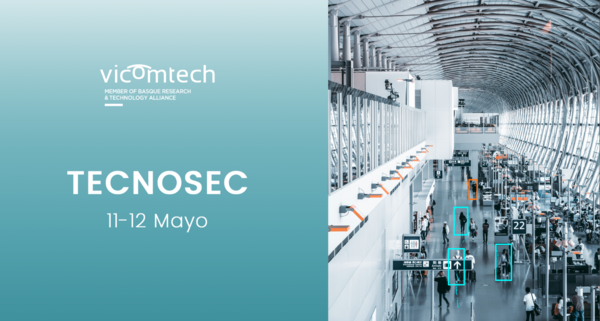 09.05.2022
Vicomtech is strongly committed to the development of technological solutions applied to security, as evidenced by its extensive participation in European programs and initiatives. The Center is in fact positioned as an international benchmark player in the development of security solutions based on Artificial Intelligence. Based on the figures shown by the results of these programs, Vicomtech is the state technology center most funded by the European Commission in H2020 Secure Societies and the second beneficiary entity of these funds at the national level. The Center is therefore strongly positioned within the framework of the European program of research and technological innovation for security Vicomtech collaborates with the most advanced European industry in the field of Artificial Intelligence, staying at the forefront of the latest technological advances in the areas of image analytics, speech and natural language technologies, and cybersecurity.
As a result of the close relationship with national and European security forces and bodies, Vicomtech applies and optimizes its technological developments to meet the needs imposed by the main present and future security threats.
The application of Artificial Intelligence to the development of security technologies and applications at Vicomtech is based on three pillars:
Automatic image and video processing and analysis thanks to which challenges are addressed in security areas such as border management, organized crime including the fight against child exploitation, the protection of critical infrastructures and public spaces.
Speech and natural language technologies that are key in speeding up police action in the fight against terrorism and online radicalization. These are useful, for example, when detecting hate speech, sentiment analysis, identifying people, among others.
Digital security that facilitates the detection of anomalous behavior and transactions associated with online criminal activities or the secure management of digital identities.
Vicomtech's extensive technological background, its resources and its ability to develop flexible solutions adapted to the specific problems of the Security Forces and Bodies, make these technologies that are researched, developed and applied at the Center a key factor for enabling advanced security capabilities.