Virtual recreation of productive processes for the training and evaluation of operators
Virtual recreation of productive processes for the training and evaluation of operators
Grupo Alecop
A methodology to generate Virtual Reality tutorials and training courses aimed at professional preparation in industrial jobs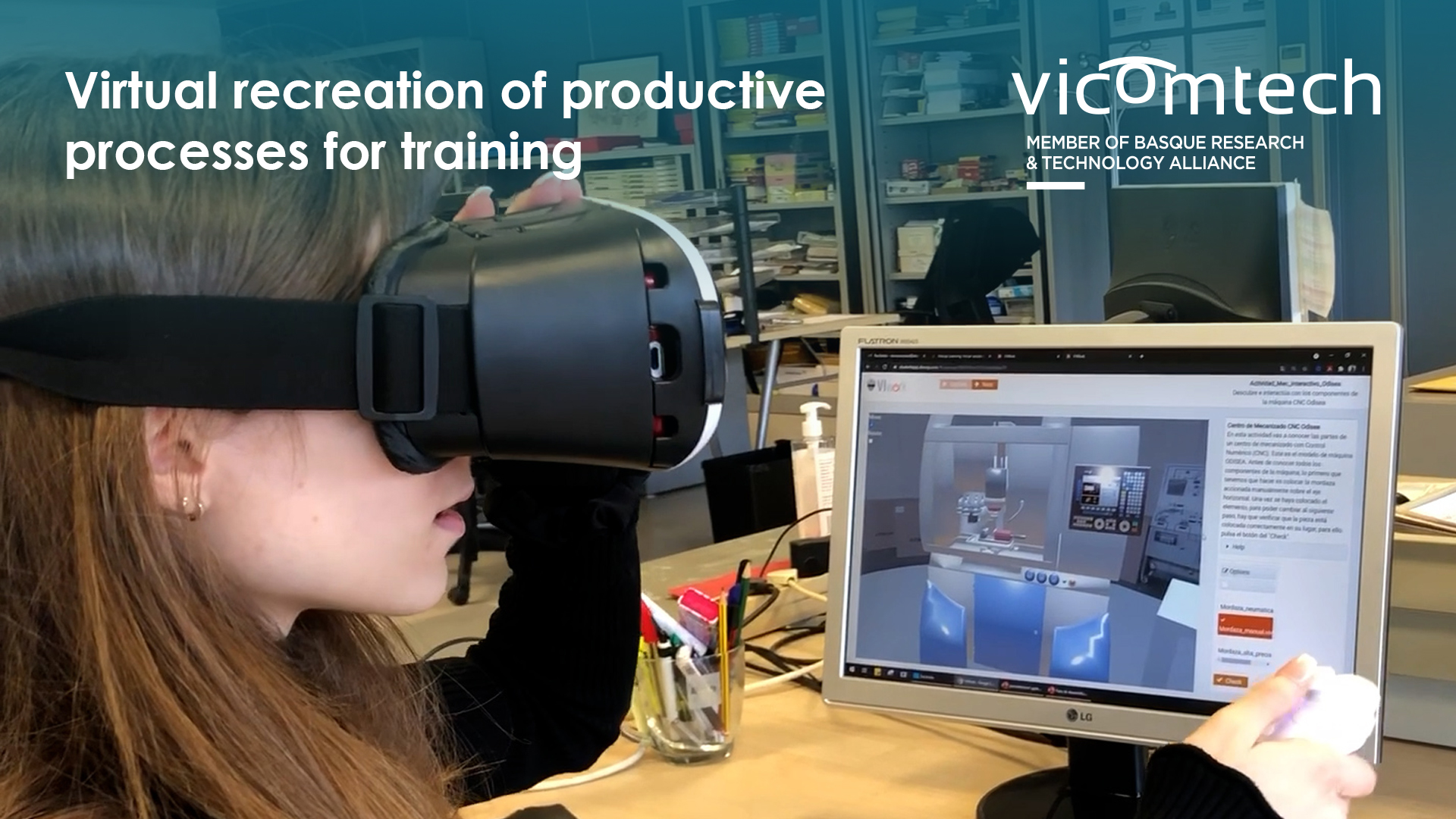 The Challenge
The Alecop Group team, a company specializing in the development of Professional Technical Education and Training projects and a leader in the design and manufacture of educational and technical equipment, conveys a need that represents a great technological challenge. Through the digital technologies in which we are specialized, they propose to develop and implement innovative tools aimed at facilitating the incorporation of professionals in industrial jobs based on virtual learning processes. Using these tools, workers will have the opportunity to learn and practice job operations safely before joining the job.
This initiative arises from the experience and technological knowledge of Vicomtech and Alecop learning environments and didactic equipment, considering the needs of the industrial and manufacturing sector, which increasingly require new instruments and tools that make them more competitive.
The Proposed Solution
To respond to the need raised, we have tackled the development of a methodology to generate Virtual Reality tutorials and training courses aimed at professional preparation in industrial jobs, providing virtual tools applicable to solving the following problems:
how to create the virtual model of workstations by its 3D reconstruction
how to apply expected behavior to 3D models
how to prepare online tutorials and train workers in the virtual environment
Furthermore, to apply this methodology, 3D editing algorithms have been developed and a high-performance interaction engine has been generated. With this, a system has been achieved that generates the virtual replica of the workstation with great precision. This application, which is also multi-device, includes the ability to create and edit different modes of human-machine interaction through immersive virtual reality techniques that allows an evaluation of the results of prior learning during the phase of definitive incorporation to the position of job.
The Result
The result obtained has enabled the development of different new services and has allowed Alecop to fulfill its commercial objectives.
Personalized training and evaluation, adapted to the needs of each industry.
Services based on the maintenance and updating of the virtual replica of a job, responding to changes in it and improving the training process
Rental of the means of creation and maintenance of the virtual replicas of the workstations
Sale of the learning and evaluation system adapted to the needs of each company.
This initiative has been financed by CDTI, Center for Industrial Technological Development and by the Hazitek program promoted by the Basque Government through SPRI.
Looking for support for your next project? Contact us, we are looking forward to helping you.