On Wednesday, June 22th, Donostia-San Sebastián hosted the visit of Red.es, an entity of the Ministry of Economic Affairs and Digital Transformation
The main aim of the visit was to learn about the use cases that are being developed in the city as part of the 5G Euskadi project, for which Vicomtech, together with CAF, Ikusi and Ceit, is providing a connected car.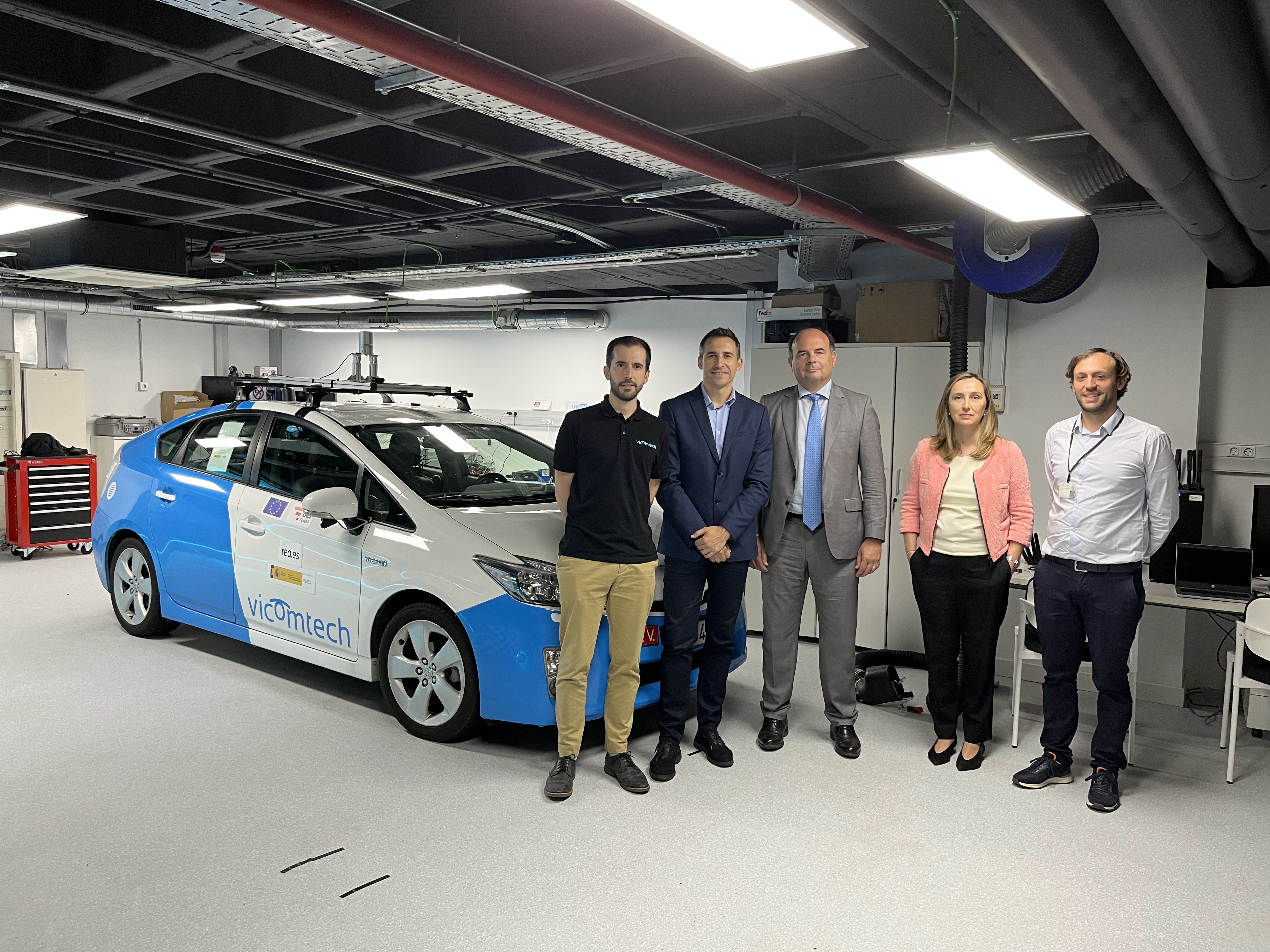 28.06.2022
The Basque 5G project is a joint initiative of 19 companies and public and private bodies with the aim of deploying and enabling a real 5G network in the three Technology Parks, as well as carrying out 9 use cases aimed at the pre-commercial development of products and services in the areas of mobility, energy, industry, cybersecurity and network services.
Specifically, the Ministry visited the three cases of mobility being carried out at the Miramón Technology Park within the area covered by the Technology Park, which extends to the city's hospital area. This cover is designed to cover a space of two Dbus lines, in addition to the vehicles equipped for the experimentation that will also move through this area.
For its part, Vicomtech's role during the visit was mainly to provide the consortium with a connected car, together with CAF, Ikusi and Ceit. During the day, it was possible to visit the 5G and communications lab, in addition to being able to show how a car equipped with multiple sensors and with 5G connectivity on board opens up new possibilities for predictive maintenance functions, implementing algorithms in computing services provided by the operator through the MEC (Multi-access Edge Computing). Vicomtech also presented its multimedia content distribution monitoring tool deployed in the MEC itself, which allows to improve the quality of experience by taking advantage of its capabilities to store multimedia content and distribute it to users.
The delegation's visit ended with a reception at the City Hall of San Sebastian by the Councillor for Mobility and Transport, Pilar Arana.
What is clear, is that this set of technologies within 5G, will make possible services and communications that have not been feasible so far, and will undoubtedly be able to open up new possibilities in the very near future.