Sariki integrates 3D measurement technology for industrial environment in collaboration with Vicomtech- IK4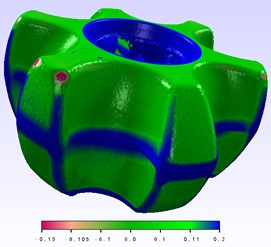 12.04.2016
Vicomtech-IK4 has boosted a new 3D measurement technology to meet the demand of the new trend Industry 4.0. Sariki has developed an advanced dimensional inspection software through this technology, where technology is in relation with ubiquitous data in real time. All this to analyse more than 3 million of points of a certain object and to reflect in 3D the dimensional deviations to help the professionals to guarantee the final result of the piece with micron-level accuracy.
Using a laser scanner to capture the shape of the object, the system sends all the data to the cloud and compares in 3D its surface with the original design of the piece, accessible through a 3D web viewer with any web browser.
Nowadays the software is being used in the automotive sector in order to validate the forging process of the components which are assembled in almost 8 % of the word production of cars.
The main feature and advantage of this technology is that the data flux generated can be integrated completely in a connected smart factory, allowing the deployment of advanced analytic tools using big data techniques. Thus, the generated data in the production plant becomes in an invaluable asset for any kind of manufacturing environment.