bG-PERMED
bG19: PRECISION MEDICINE: TOWARDS THE IMPLEMENTATION OF MOLECULAR DIAGNOSIS IN THE ACBC FOR BIOMARKER ELECTROTECTION
bG-PERMED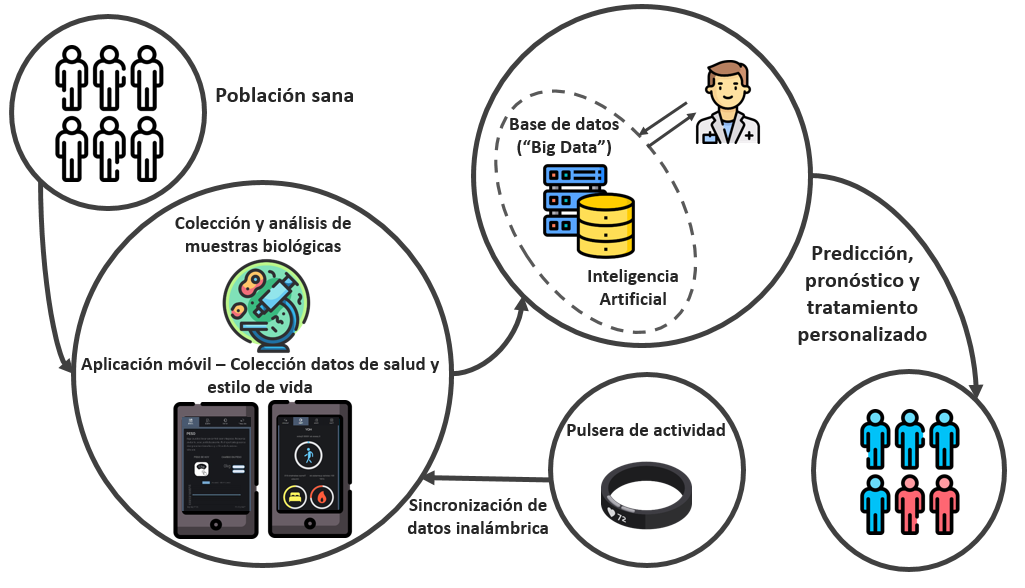 Duration:
01.03.2019 - 31.12.2020
The aim of this project has been the technological development for obtaining (and the actual obtaining) of a structured database (biological and lifestyle) of a representative (and longitudinal) sample of the working population of the Basque Country, in order to use the most recent technologies of integral omics analysis and Artificial Intelligence (AI) in data integration, to advance towards the identification of biological fingerprints (biomarkers) and personalised or precision medicine in the Basque Country.
For the development of the bG19 project, an integromic approach has been taken through the use of advanced, high-throughput technologies (such as Nuclear Magnetic Resonance, proteomics, genomic analysis, metabolomics, microbiome, etc.), resulting in more robust and relevant information that will allow the expected results of the project to be more applied and susceptible to transfer to the market in less time than usual and with a greater economic and social impact. Thus, from the perspective of precision medicine, this project has focused on the search for and validation of predictive biomarkers for diagnosis and prognosis.
In addition, the combination of molecular knowledge of the individual, and lifestyle covers most of the causes of failure in biological systems that can lead to disease. Solutions have been developed for sample handling, molecular data management, as well as for activity and lifestyle capture and joint data exploitation.
Vicomtech has been responsible for the development of lifestyle and activity capture technology using mobile applications and wearable devices.
Looking for support for your next project? Contact us, we are looking forward to helping you.