ISMASS
Improved IOT solution for monitoring temperature and stock in port biomass storage
ISMASS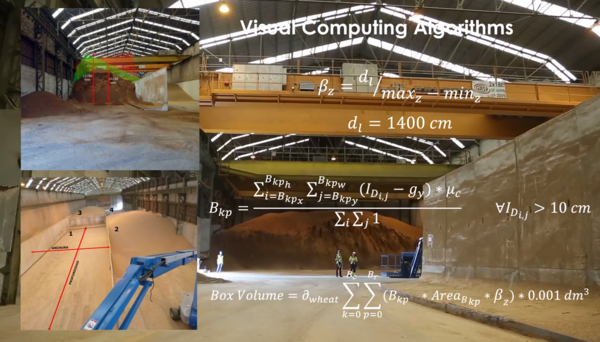 The aim of the ISMASS project is the implementation of a sensorisation system to monitor humidity, temperature and volume of the grain stored in large warehouses. To be specific, the control and calculation of the volume is a complex process, because said parameter can be changed by variations in humidity and temperature during storage periods, as well as by the loading, transfer and unloading process itself from the port or place of reception to the trucks or vehicles used to transport it.
To achieve this, Vicomtech's role has been to implement a system for the calculation and monitoring of the volume of grain stored in warehouses. Therefore, artificial vision techniques have been used for the 3D reconstruction of the mound of grain and algorithms have been implemented to calculate its volume.
The technological challenge lies in the capture of the point cloud by using the Lidar Velodyne sensor, as well as the implementation of complex algorithms allowing volume calculation from the starting point of the 3D reconstruction of the captured point cloud.
As a result of the project, software has been obtained which allows the interactive visualisation of the reconstruction of the mound of grain stored in the different recesses, as well as the monitored parameters.
The main advantages of this system are the detailed information about the volume of the stored grain and the improved efficiency in warehouse management. Currently, work continues to achieve a completely automated process and improved calculation of volume incorporating the use of drones.
This project's consortium is made up of the companies Geobrama, Bizintek and Coollogger, in addition to Vicomtech Technological Centre.
Looking for support for your next project? Contact us, we are looking forward to helping you.