RAPID
RAPID, a System for predicting and detecting risks in the workplace based on Artificial Intelligence
RAPID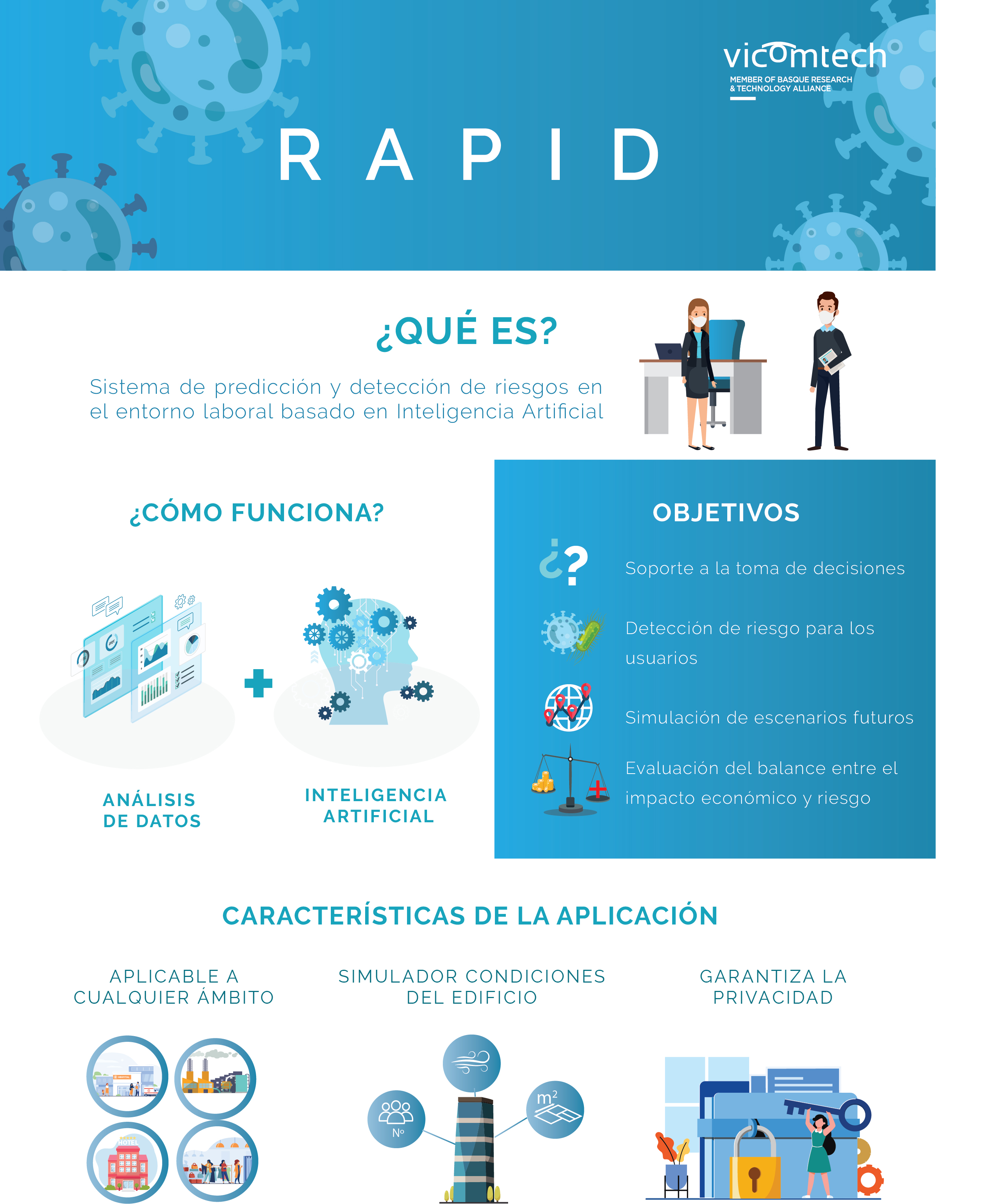 The Rapid project arises as an initiative to face the challenges related to COVID19 and specifically related to the safe return to face-to-face work activity. However, the scope of the project has been extended and is now presented as a service capable of detecting risks of different types in the work environment and making predictions about different relevant circumstances that affect the safety of people.
Rapid consists of a system that collects and processes activity data in a certain crowded environment through the Bluetooth Low Energy (BLE) technologies of mobile phones. In this way, a voluntary contact tracing is carried out between the people linked to an organization, facility or event and their movements during a stipulated time. The data collected and its processing facilitate decision-making at the organizational level, as well as the application of corrective actions.
The technology behind RAPID applies capture and graph processing technologies as well as mathematical models for descriptive analytics that allow situations to be evaluated in real time. In addition, it integrates Artificial Intelligence modules that support decision-making based on data and simulation models of future scenarios that seek to minimize risk and maximize productivity. In the case of COVID19, it allows the contagion and number of cases to be monitored in order to carry out an evaluation of the balance between the economic impact and the risk.
The system that was presented last year has continued its evolution and validation at Vicomtech in recent months and has resulted in a tool that can be applied to any organization regardless of the sector in which it operates; health, industrial, technological or services, among others, or even in infrastructures and specific occasions such as hotels and mass events.
Within the framework of the project, a simulator has been built in which different parameters can be entered, such as those that determine the safety criteria of a certain building or room, ventilation conditions, and use restrictions. Based on the defined parameters and through the algorithms developed based on Artificial Intelligence, the system performs simulations and detects what would happen if any of the restrictions were breached or other types of policies were applied. In addition, it performs the calculation of the probability range of the risk for people in terms of infections, development of a disease or other dangers.
It is important to note that the characteristics of the tool guarantee at all times the privacy of people and the monitoring of contacts exclusively in the area in which it is being applied.
RAPID arises as a collaborative effort within the BRTA Basque Research & Technology Alliance initiatives to face the challenges related to COVID19 with the support of SPRI Group.
Looking for support for your next project? Contact us, we are looking forward to helping you.