Artificial Intelligence and Language Technologies: Solutions to improve interaction, efficiency and automation
Language technologies constitute one of the main fields of application of Artificial Intelligence and are positioned as a key element in the creation of natural interfaces in this new social reality. In this event we will bring solutions to companies and we will present different applications through success stories.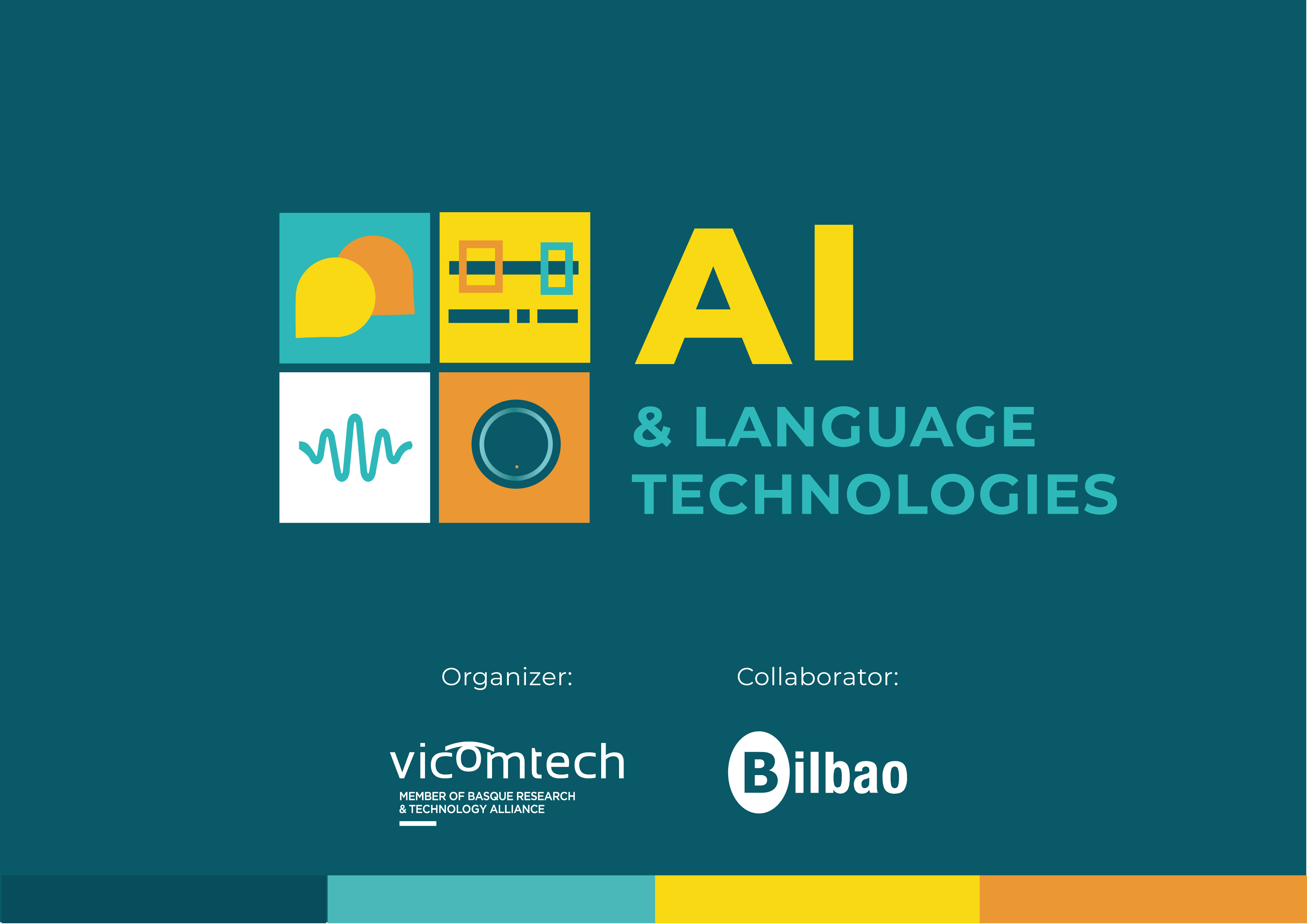 18.10.2021
When and where?
Wednesday, November 17, 2021
Ensanche Building, Plaza Zabalgune, 11
48009 Bilbao - Bizkaia
General Objective
To present realities and prospecting to help identify opportunities for the application of language technologies based on artificial intelligence in both Companies and Administrations.
To whom?
To Managing Directors and to technical, innovation, or service managers of Companies and Administrations
Sign up

Program
09:45 - 10:00: Reception
10:00 - 10:05: Opening. Javier Garcinuño, General Director - Bilbao Ekintza
10:05 - 10:25: Vicomtech and AI in Applied Industrial Research. Julián Flórez, General Director - Vicomtech
10:25 - 10:50: AI and Language Technologies: Overview. Arantza del Pozo, Director of Speech and Natural Language Technologies - Vicomtech
Examples and Testimonials. Application Opportunities
10:50 - 11:05: ITZULI Machine Translation: from Research to Service at the Basque Government
11:05 - 11:20: Bilingual Automatic Subtitling. Use case of EiTB
11:20 - 11:30: Break
11:30 - 11:45: Voice Based Biometrics and Antispoofing. Implementation in Natural Vox.
11:45 - 12:00: RESIVOZ: Spoken registration of information through conversational assistants. Caser Residencial use case
12:00 - 12:15: Applying Transfer Learning to natural language models. BBVA AI Factory use case
12:15 - 12:30: Deepfake and Voice Cloning. How was Franco's voice generated for the XREY podcast?
12:30 - 12:45: Doubts and questions
Round Table and Conclusions
12:45 - 13:15: Round Table. The impact of language technologies in the future
13:15 - 13:30: Closing
Speakers
Javier Garcinuño

General Manager -Bilbao Ekintza

Julian Florez

General Manager - Vicomtech
Arantza del Pozo

Director of Speech and Natural Language Technologies - Vicomtech

 

Toni Garrido

Announcer, presenter and producer.
Thierry Etchegoyhen

Principal Researcher in Translation Technologies - Vicomtech

Oscar Guadilla

Director of Innovation and Consulting (EJIE)
Aitor Álvarez

Senior Researcher in Speech Technologies - Vicomtech

Blanca Romero

Associate Director of Natural Vox
Montse Cuadros

Senior Researcher in Natural Language Processing - Vicomtech

Larraitz Eguren

Media processes Technical Coordinator - EITB
María Hernández

Senior Data Scientist & Data Product Owner - BBVA AI Factory

Jesús María Martín

Data Product Manager - BBVA AI Factory
Manex Serras

Researcher in Dialogue Systems - Vicomtec

Iñaki Tellería

URTMS Coordinator - Caser Residencial Betharram