Vicomtech participates in the European project LUCIA, an initiative born with the idea of paving the way for a better management and treatment of lung cancer.
The kick off of the project took place in early February at the Technion facilities in Haifa, Israel. In a two-day meeting, around 60 expert members of the consortium were able to share their vision of the project, exchange ideas and show their enthusiasm for being able to participate in an initiative that focuses on one of the most aggressive and deadly cancers in existence: lung cancer.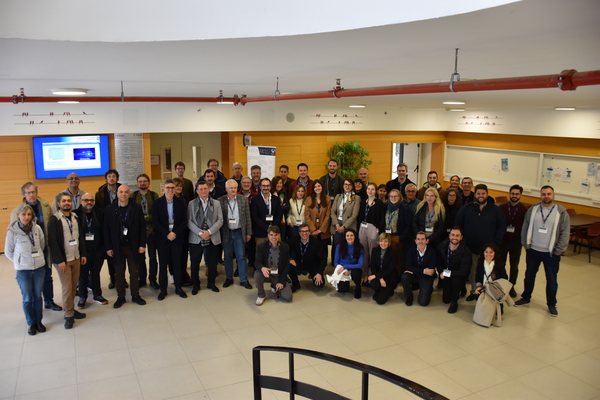 28.02.2023
Somewhere in the world, someone dies every thirty seconds from lung cancer, making it one of the deadliest diseases in existence; the five-year survival rate is 17% for men and 24% for women. To try to reverse this, the LUCIA consortium is working to identify all the associated risk factors and to develop methods for diagnosis, prevention and treatment of the disease.
 
Aim of the project
The objective of the consortium, of which Vicomtech is a member, is to improve early detection and management of lung cancer through the in-depth study of individual biology exposure risk factors, in order to improve prevention strategies, help implement screening programs, improve diagnosis and enable more precise medical approaches. "We are fortunate to have many skilled, outstanding partners from a variety of fields, and we will be working together for the next four years, applying a multidisciplinary approach, to further the understanding of the disease and develop methods to prevent, diagnose and treat it more effectively", says Professor Haick, coordinator of the project.
The consortium, which has 22 members including academic institutions and other entities, is working together to identify and analyze risk factors for lung cancer by focusing on three aspects: individual factors, including lifestyle and exposure to pollutants; external factors, such as the state of urban areas, traffic, climate and socioeconomic aspects; and finally biological reactions, including aging and genetic, epigenetic and metabolic changes.
Vicomtech's role
Vicomtech provides the necessary infrastructure to design the virtual research environment for LUCIA, in addition to implementing the services for data ingestion and integration as well as the design of the tools for the project's AI lifecycle management.
In addition, thanks to the Data Processing & AI Modelling technology, it will be possible to develop tools to process and analyze signals from data capture devices. Vicomtech will generate AI models for the analysis of medical images, multi-omics data and for predicting the effect of external risk factors.
Project partners
The consortium, consisting of 22 partners, is headed by the coordinator Prof. Haick and members of his research group. Prof. Yuval Shaked from Rappaport Medical School is a partner in the consortium and is investigating the mechanisms of lung cancer to support early diagnosis of lung cancer.
The entities that are part of the consortium are as follows:
1. Technion Israel Institute of Technology (TECH)
2. German Cancer Research Center (DKFZ)
3. Fundació Institut de Recerca Biomédica (IRB Barcelona)
4. Fundació Centre de Regulació Genómica (CRG-CNAG)
5. Fundación Centro de Tecnología de Interacción Visual y Comunicaciones
(VICOMTECH)
6. Heidelberg University (UHEI)
7. Emoda Yazilim (EMO)
8. University of Ulster (ULSTER)
9. Universidad Politécnica de Madrid (UPM)
10. Bilbomatica (BILB)
11. Latvijas Universitate (LU)
12. Liege University Hospital (CHUL)
13. Servicio Andaluz de Salud (SAS- FISEVI)
14. YAGHMA (YAG)
15. Time.lex (TLX)
16. Fédération européenne des hôpitaux et des soins de santé (HOPE)
17. Dexai – Etica Artificiale (DEX)
18. Nanose Medical (NAN)
19. PRONAT Industries (PRON)
20. Biocruces Bizkaia/ Servicio Vasco de Salud Osakidetza (BCB- OSA)
Although it is a fact that there is a long road to a definitive cure for such aggressive and deadly cancers, projects such as LUCIA show that we are getting closer and closer to winning the battle.
The project has been funded by the European Union, within the framework of the Horizon Europe programme.