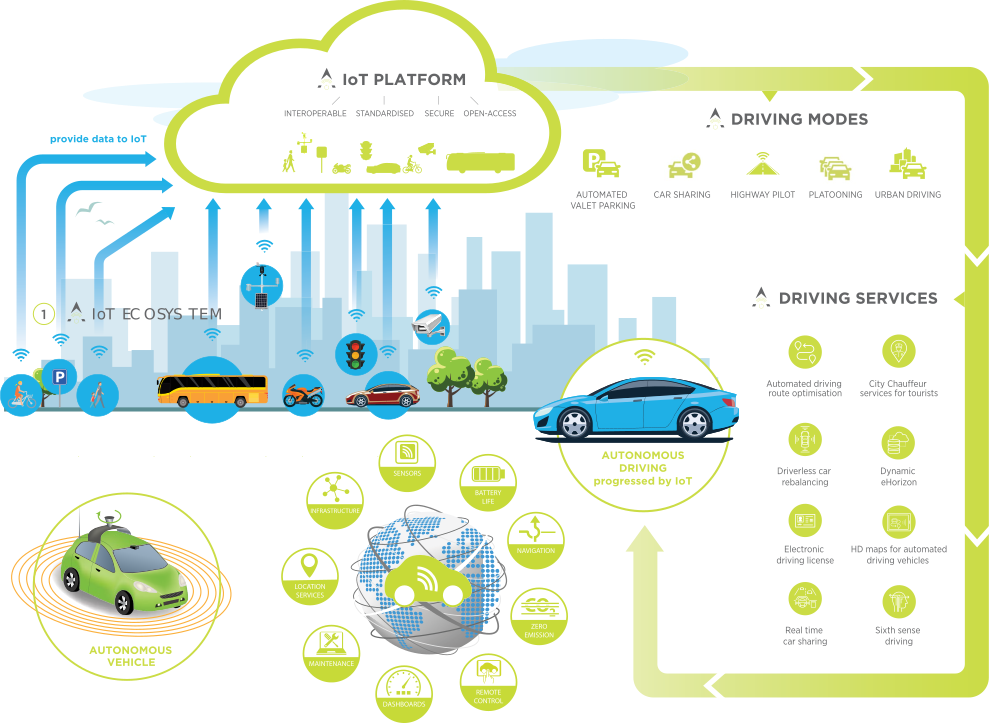 The main mission of the AUTOPILOT project is to bring together relevant knowledge and technology from the automotive and the IoT value chains in order to develop IoT- architectures and platforms which will bring automated driving towards a new dimension.
The objectives of this project are to enhance the driving environment perception with IoT sensors enabling safer highly automated driving, to foster innovation in automotive, IoT and mobility services, to use and evaluate advanced vehicle-to-everything (V2X) connectivity technologies, to involve users, public services, business players to assess the Iot socio-economic benefits and to contribute to the IoT standardisation and eco-system.
Automated driving is expected to increase safety, provide more comfort and create many new business opportunities for mobility services. The market size is expected to grow gradually reaching 50% of the market in 2035. The Internet of Things (IoT) is about enabling connections between objects or "things" –connecting anything, anytime, anyplace, using any service over any network. A giant IoT network is expected to consist of up to 50 billion objects by 2020, enabling the advancement of a wide range of applications across various areas impacting our everyday life. "Automated driving Progressed by Internet Of Things" (AUTOPILOT) brings IoT into the automotive world to transform connected vehicles — moving "things" in the IoT ecosystem — into highly and fully automated vehicles. While using the IoT potential for automated driving, AUTOPILOT also makes data from autonomous cars available to the Internet-of-Things.
The AUTOPILOT consortium represents all relevant areas of the IoT eco-system. Thanks to AUTOPILOT, the IoT eco-system will involve vehicles, road infrastructure and surrounding objects in the IoT, with particular attention to safety critical aspects of automated driving. AUTOPILOT IoT enabled autonomous driving cars are tested, in real conditions, at six permanent large-scale pilot sites in Finland, France, Italy, the Netherlands, South Korea and Spain.
Vicomtech is a key participant in the video based sensor development both for in-vehicle & infrastructure. This sensors will be used in the pilots of Brainport, Livorno & Vigo. Vicomtech will also help with dealing with privacy protection and masking technologies and addressing Data Protection notification and compliance in the project.
AUTOPILOT is one of the European Commission's Large-Scale Pilots (LSPs), specifically Pilot 5: autonomous vehicole in a connected environment. The European Union will contribute with 19.924.984€ funding.
Looking for support for your next project? Contact us, we are looking forward to helping you.