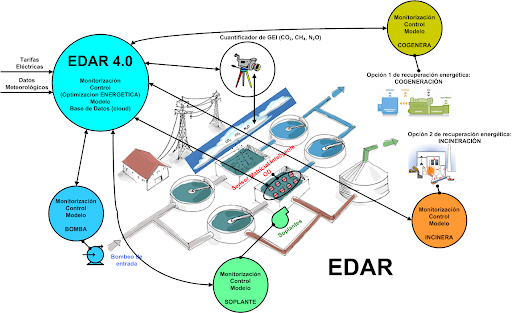 The main aim of this project is the development of predictive models based on Artificial Intelligence (AI) techniques, favouring the automation of water purification plant maintenance and operation with the aim of optimising energy consumption at water purification plants (WPP).
Vicomtech has actively participated in the project by developing decision-support systems based on Visual Analytics and Machine Learning techniques, in collaboration with other technological companies and agents of the consortium, led by the Giroa Veolia company. The consortium is made up of the companies Veolia Water Technologies, Mondragón Sistemas de Información, Mapner, Guascor Power (Siemens), MaserMic, Ibermática and LKS Consultoría Tecnológica, the Tekniker-IK4 technological centre, Mondragon University and the i3B (Ibermática) and Guascor Power I+D (Siemens) R&D units. The technological solutions developed have been validated at two full-scale WPPs, EDAR Epele (Arrasate, Gipuzkoa) and EDAR Cartuja (Zaragoza).
EDAR 4.0 is a R&D&i project carried out within the framework of the HAZITEK Strategic R&D&i programme of the Basque Government in the period 2017-2019 as a result of the collaboration proposal between different leading companies in the wastewater sector and state-of-the-art technological centres and universities in the Basque Country.